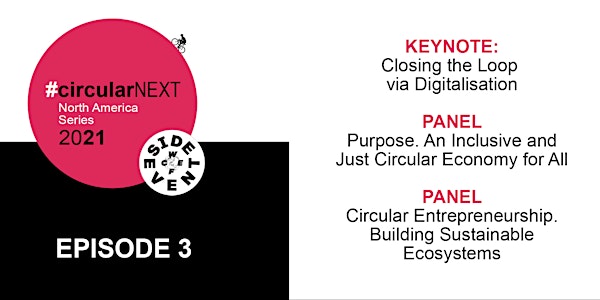 #circularNEXT North America Series Episode 3
Inclusion, Justice & Social Equity are of Key Importance for a Circular Economy Transition & Creation of Sustainable Business Ecosystems.
About this event
This is Episode 3 of the #circularNEXT North America Series
Digitalisation, Purpose, Inclusion and Entrepreneurship. How is all these topics linked together in the Circular Economy? With speakers from Europe, USA, Canada, Latin America and Asia you will get a very good idea on where the opportunities to build back a better economy, society and help restore our planet resources.
9.00am
Welcome -
Humberto Olivo, Innovation Texas / Ariel Viosca ICE Initiative
9.10
Keynote - Closing the Loop via Digitalisation
Sanyu Karani, CEO & Founder FundingBox
9.30
Panel - Purpose. An Inclusive and Just Circular Economy for All.
10.30
Panel - Circular Entrepreneurship. Building Sustainable Ecosystems
.