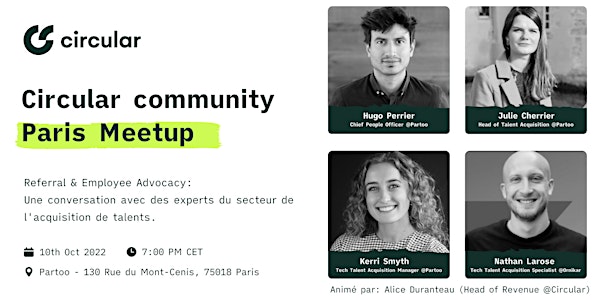 Circular Community Meetup | Paris
Referral & Employee Advocacy: une conversation entre experts du secteur de l'acquisition de talent
When and where
Location
Partoo 130 Rue du Mont-Cenis 75018 Paris France
About this event
La saison des Meetups Circular est arrivée ! Nous allons accueillir notre premier meetup à Paris et rassembler notre communauté 🎉.
Rejoignez-nous ! Voici ce que vous devez savoir :
Quand : Lundi 10 octobre, l'événement débutera à 19h00.
Où : Bureau de Partoo - 130 Rue du Mont-Cenis, 75018 Paris, France
Qui:
Hugo Perrier (Chief People Officer @Partoo)
Julie Cherrier (Head of Talent Acquisition @Partoo)
Kerri Smyth (Tech Talent Acquisition Manager @Partoo)
Nathan Larose (Tech Talent Acquisition Specialist @Ornikar)
Alice Duranteau (Head of Revenue @Circular)
Ce que vous devez savoir ! 👀
Veuillez noter que nous avons des sièges limités, donc assurez-vous s'il vous plait de vous inscrire si vous souhaitez y assister car nous ne serons pas en mesure d'autoriser les invités qui ne sont pas sur la liste des invités. Merci !
Ce à quoi vous devez vous attendre:
19H00: Introduction
19H15: Présentation de Circular.io
19H20: Conversation de 45 minutes au cours de laquelle nos experts RH discuteront de leurs visions et de leurs idées sur la construction de la marque employeur, de la culture d'entreprise, sur la manière de générer l'engagement et le sentiment d'appartenance de vos talents !
20h05: Vos questions et clôture de l'événement
20H30: Drinks & snacks !
L'événement sera francophone, veuillez contacter agostina@circular.io si vous avez des questions concernant le Meetup.
N'hésitez pas à partager l'événement autour de vous, et de vous inscrire le plus vite possible, les places étant limitées ! :)