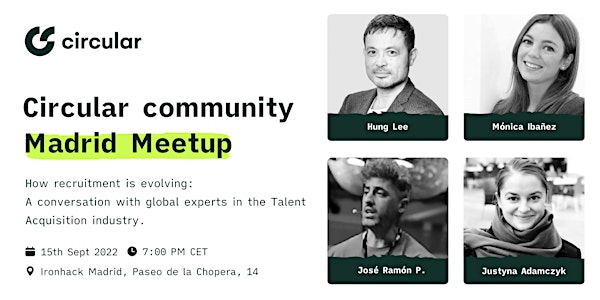 Circular Community Meetup | Madrid
How recruitment is evolving: A conversation with global experts in the Talent Acquisition industry.
When and where
Location
Ironhack Madrid Paseo de la Chopera, 14 (Matadero - Casa del Lector, Nave Ironhack) 28045 Madrid, España 28045 Madrid Spain
About this event
Circular Meetups are here again! We are to host our second meetup in Madrid and get our community together again 🎉
Join us! Here's all you need to know:
When: Thursday 15th September event will promptly start at 7:00pm
Where: Ironhack Madrid - Paseo de la Chopera, 14 (Matadero - Casa del Lector, Nave Ironhack, 28045) Madrid, España
Who: Hung Lee (Recruiting Brainfood), Mónica Ibañez (Tech Talent Acquisition Manager at Personio), José Ramón Perez (Chief People & Culture Officer at Mercadona Tech) and Justyna Adamczyk (Head of People at Sketch).
Important things! 👀
Please note that we have limited seats available, therefore please ensure to Register if you will attend as we won't be able to allow guests who aren't on the guest list. Thank you!
Here's what you can expect:
7:00 PM: Welcome
7:15 PM: Intro from Circular
7:20 PM: Speakers will introduce themselves
7:20 PM: 90 minutes conversation where the Talent Acquisition experts will discuss their perspectives and insights on how recruitment is evolving and share advice and tools to improve recruitment.
8:50 PM: last Q&A and closure
9:00 PM: Beers and Pizza
The event will be English-speaking, please contact agostina@circular.io if you have any questions regarding the Meetup.