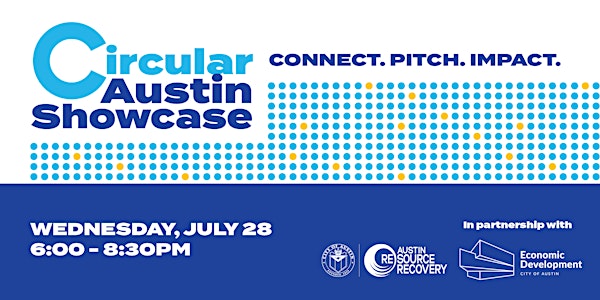 Circular Austin Showcase
Circular Austin Showcase brings together investors and entrepreneurs for a one-day pitch event supporting the circular economy!
About this event
Circular Austin Showcase is a virtual pitch event hosting a diverse group of people from investor and business communities to support and inspire growth in the circular economy. Circular Economy entrepreneurs and business owners will have a chance to pitch their company and participate in one-on-one meetings with select investors to build their funding network.
Circular Austin Showcase will inspire and educate the investment community on the social, environmental and economic benefits of circular economy businesses.
The Showcase connects circular economy businesses and entrepreneurs with potential investors in the region. During this event, selected circular economy businesses and entrepreneurs will pitch to judges for a chance to win $3,000 in prize money.
The City of Austin is proud to support our local circular businesses by hosting an event that helps Austin reduce waste, create a cleaner environment and grow the local circular economy.
Event Agenda:
6PM - Welcome/ Intro
6:10PM - 7:50PM - Pitch Event
7:50PM - 8PM - Announcement of Winner
8PM - 8:30PM - Networking with pitch competitors + attendees