Circling (Social Meditation) New Years Retreat - December 27 - January 3
Description
Circling Weekend Immersion and Week-Long Deep Dive
Discover and train new mindful ways of relating with others

Come into direct contact with the dynamics that underlie relationships

Practice the art of seeing and being seen in relationship for who we are without needing to earn attention or be any different than we are in this moment

Glean relational blind spots and move toward freedom and healing through a supportive monastic community
Join the Monastic Academy as we embark on a relational journey weaving together silent meditation and Circling (social meditation) for a New Years Immersion. This program is often a deeply transformative experience for empowering you to relate to others in more productive, fulfilling, and engaged ways.
You can participate in one of two ways (details further below):
Weekend Immersion (Friday - Sunday)

Weekend Immersion + Week-Long Deep Dive (Friday - Friday)
Interested but not sure about signing up yet? Want to attend future events but can't make this one? If you want to learn more or try a demo, feel free to email us at info@monasticacademy.org.

What is Circling?
Circling is the practice of discovering and training new mindful ways of relating with others. The practice is done with others in pairs, small groups, and large groups. We practice directly the art of seeing and being seen in relationship for who we are without needing to earn attention or be any different than we are in this moment. We come into direct contact with the dynamics that underlie relationships and use this rich interpersonal space to glean relational blind spots, freedom, and healing. Often by dropping our views and slipping deeper into the immediate experience of relationships, a doorway to a world beyond words opens, offering a taste of transcendence.
Circling is also a wonderful way to integrate and bring our mindfulness practice off of the cushion into everyday relationships. Rather than falling back into small talk or habitual ways of relating, we can identify, name, and explore what's present right here in connection. As a practice, the more we circle, the more we learn how to bring this same level of presence and connection to all of our daily relationships such as your friends, family, partners, and clients. and inspire others to join you.
This provocative, and alternately unnerving and deeply calming practice of Circling will be complemented by traditional practices of silent sitting practice, chanting, and other monastic forms of authentic community. The skills that we learn in working directly with our own minds in turn support working with others and vice versa. This will be a time of deep practice where the days will be long, rigorous, and rewarding.
This immersion will be the sixth Circling residential program hosted by the Monastic Academy. The residents will be fully participating during the program with you. The contemplative community and beautiful surroundings of the Academy allow for a safe, trustworthy space for people to see new ways of being and relating.
Two Program Options
1) Weekend Immersion
Friday 5 PM - Sunday 1 PM
The week will begin with a weekend immersion bringing people into the fundamentals of Circling including group exercises, guided meditations, and sharing reflections. The weekend is open to anyone interested in meditation and Circling. No prior experience is required in mindfulness or Circling.
2) Weekend Immersion + Leadership Intensive
Friday 5 PM - Friday 2 PM
Connect with the group during the weekend immersion and then blast off into the Leadership Intensive beginning Sunday evening. The Leadership Intensive will be a deep dive including advanced practices, group dynamic complexity, and opportunities to lead and be led by others in the group. We will explore the farthest edges of our comfort zone, transcend our fixed perspectives, and meet each other in new ways.
Note: If your schedule does not allow you to join for the whole week, feel free to contact us for flexible dates.
Price
Limited Early Bird Weekend Immersion (Fri - Sun)
$600.00 for a shared room
Limited Early Bird Weekend Immersion + Leadership Intensive (Fri - Fri)
$1,500.00 for a solo room
$1,300.00 for a shared room
Regular Weekend Immersion (Fri - Sun)
$800.00 for a solo room
$700.00 for a shared room
Regular Weekend Immersion + Leadership Intensive (Fri - Fri)
$1,600.00 for a solo room
$1,400.00 for a shared room
*If a ticket is sold out, please email info@monasticacademy.org to be added to a wait list.*
*Cost of the program, room, and board is included in prices above.*
* Limited spots open for those who wish to only come for Monday - Friday for those with prior experience with MAPLE *
For those unable to attend due to financial need, please contact info@monasticacademy.org. There are limited discounted tickets available but no free tickets.
Please contact us if you need customized start and end days.
There will be a dana talk (donation workshop) at the end of the program on how to stay connected and ways to donate to the center. All donations are 501(c)(3) tax deductible.

Getting Here
We are located at 751 Page Road, Lowell VT 05847. The closest airport, Burlington International Airport, is about 90 minutes away.
We will run a limited, optional shuttle service from and to the airport on Friday, December 27 and Friday, January 3.
A van will pick up people on Friday December 27 at 3 PM. We will plan to drop off folks at the airport on Friday, January 3 by 5 PM. There is an additional $25 shuttle service fee each way or $50 both ways.
Teachers / Facilitators
Several experienced facilitators will be leading the week alongside the Monastic Academy residents serving support. They include Peter Park, Mike Blas, and Miles Bukiet.
Peter Park is a meditation and Circling teacher. He has been a resident at the Monastic Academy for over four years and a teacher at the Academy for the past year. Years ago, he did a weekend immersion led by Circling Europe in NYC and was hooked. He has trained several years in their most intensive SAS 6-month programs. He also has led weekly circles at the Academy since 2015 along with drop-in groups such as Vermont Circling Zendo. He holds a Masters degree in Existential and Buddhist Philosophy.
Mike Blas is a circling teacher extraordinaire. He has led immersions throughout the country. He is an integral member of the Austin circling scene. He is certified by The Circling Institute and a graduate of Circling Europe's SAS program. He holds a degree in Industrial Psychology and has brought the circling practice to a diversity of business organizations, special events such as weddings, and private coaching.
Miles Bukiet is a meditation and interpersonal meditation instructor. After ~ four years of full-time study of meditation at monasteries in Asia and in solitary retreat in the US, he found circling. He is also a graduate of Circling Europe's SAS Program. He has since spent over a thousand hours participating in and leading circles. Miles graduated from the University of Pennsylvania with a Masters in Applied Positive Psychology. He couldn't be happier to join the team at the Monastic Academy for the upcoming retreat.
Alexandra Tataryn brings honesty and embodied intensity to circling. She runs an online community which ties together emotional processing, circling, and subtle-space awareness practices. She is a 10+year practitioner of Buddha Dharma and meditation. She is keenly attuned to creating conditions for we-spaces to emerge. She also leads workshops in movement, Bio-Emotive processing and art for emotional healing.
Disclaimer
Please note that Circling and meditation are not replacements for therapy or medicine. If you have mental illness or significant challenges, you may be served better by seeking out a therapist or psychiatrist. This program is often intensive for folks as we lean into our triggers and traumas to allow us to experience and choose a new response in trustworthy connection with others. By participating, you step into the program with the willingness to experience others and yourself with the basic skills of mindful self-awareness and the intention to show up and engage.
Testimonials from Past Circling Guests:
"My heart was blown wide open during the circling retreat. I experienced an awareness of oneness that I had never known before. I realized that when I have any judgement my awareness becomes slanted and I can not see. I can only truly see through the eye of my heart.
The Monastery was beautiful and so clean and I felt good to be there. The food was delicious and all the facilitators and apprentices were warm and welcoming. Peter know each of our names before we even met. I loved the chanting, meditation , breathing, swimming in the cold pond, and eating great warm soup.
Incorporating all this in my life will help me be better at everything I do. I'm planning on learning more about circling and I am excited to be closer to my son and understand him better. The circling has also been effective in helping me work with my acupuncture clients." - Sophia
"On a few occasions Peter has gently shattered my old reality and shown me a new and undeniable dimension of existence that has been an experience of love, and being seen and known, and accepted. Also because he's taught me skills through circling that have helped me to be more present and loving, and now I can change my own life and other people's lives for the better" - Jennifer
"My experience circling at the Monastic Academy was incredible; I was surrounded by caring individuals, skilled teachers and hardworking residents who took great pains to ensure that I felt safe and cared for. I felt so thankful to all of the facilitators. Peter Park demonstrated acute instincts and an ability to "slow things down" to allow individuals to get in touch with the deeper feelings that go beyond surface layers of thoughts and stories. Michael Blas demonstrated deep compassion and a flexibility and openness that encouraged play and genuine expression.
...Similarly, I had a profound shift that I could not have had anywhere else; during one circle, I was able to briefly allow my self-critical inner voice to be present with my experience rather than outside of it, and experienced a feeling of incredible elation and lightness as a result. As I expressed myself from a place of integration rather than division, the others in the circle joined me and were witness to and participants in that experience." - Shannon
"I had an incredible life changing experience at the Monastic Academy circling immersion. I clearly saw new insights about my life, work, and relationships. I explored new and deep ways of connecting with others. The impact has been profound afterwards in how I relate to people in my work and life. I'm looking forward to going back and would highly it to others." - Lindsey
"The retreat was amazing, eye and heart opening for me! I returned from it changed! It is so healing to be fully received and loved unconditionally with presence for who you truly are." - Catherine
"Full of curiosity and interest, I jumped in without many expectations or knowledge of where I was going...I felt at ease to express my feelings and thoughts, but also my needs. I felt like I was offered a safe, loving, and welcoming container, to explore my experience, whatever it might be." - Stécie
"Wow! What a uniquely special retreat where we can more deeply connect on an authentic level with ourselves and others in a safe environment. I highly recommend this for anyone remotely interested in either meditation or Circling!" - Anonymous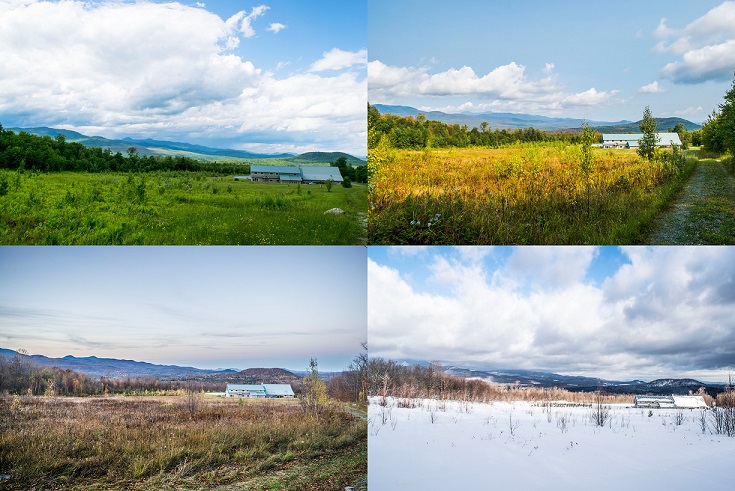 Property
MAPLE is located at the end of a mile long private driveway that winds high up a hill. Our 123 acres are abundant with wildlife and boasts commanding views out over the Green Mountains with wonderful trails through the woods. Recharge and re-examine your life in this peaceful setting where the trees, the rains, the winds, the sun, the snows, the frogs, and the stars still speak.
Facilities
Our buildings are newly built with an elegant simplicity. With wood and plenty of light and air throughout they have a comfortable and human feel. The main room is large and serves as our dining room and event space. Two lounges and a loft that are great for reading and relaxing.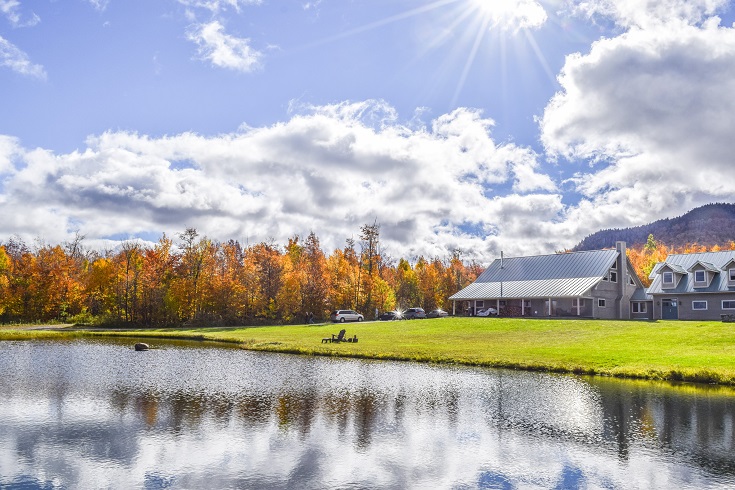 Accommodation
We have rooms with queen beds and single beds. Guests either have their own room or share a room with others. Every room has wonderful views, wood floors, a comfy bed with linens, and shelves for storing personal items. There are shared bathrooms.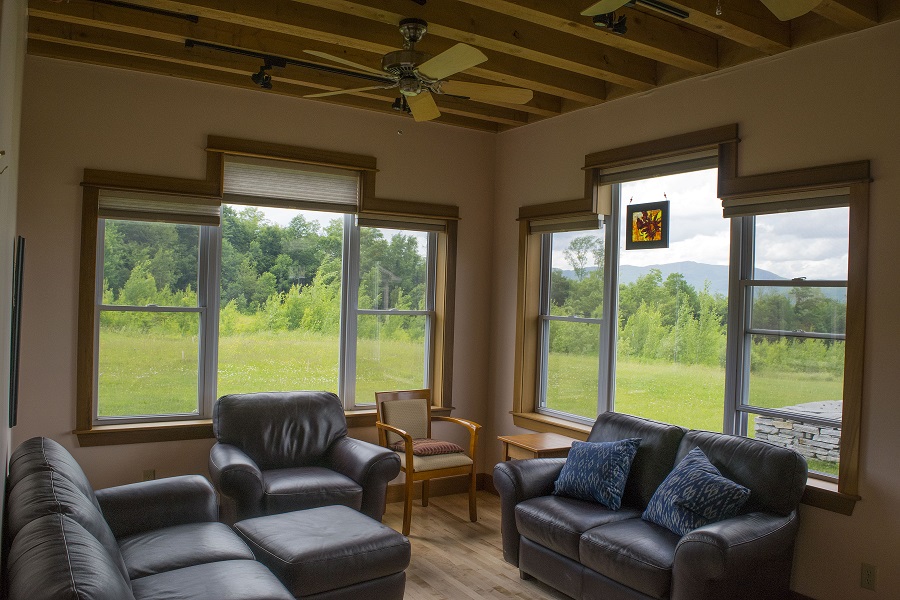 Food
Twice a day we serve simple, healthy, abundant vegan meals.
Fragrance-Free
Please be fragrance-free before arriving at the center. Members of our community are very sensitive to fragrance, which is found in personal hygiene products (soaps, shampoo, body wash, make-up), clothes washed with some laundry detergents and dryer sheets, and perfume or cologne. Please be fragrance-free before arrival. Learn how here.
About Us
Center for Mindful Learning is a non-profit 501(c)(3) organization devoted to developing trustworthy people to create trustworthy culture. MAPLE (Monastic Academy for the Preservation of Life on Earth) is a full-time leadership and meditation residential training program to cultivate leaders who embody wisdom, power, and love for all living things.

Learn about our residential apprenticeships.
Welcome to come for a guest visit and other programs.
Contact Us
Feel free to email or call us at:
info@monasticacademy.org
+1 (802) 540-0820
Refund Policy
Weekend Only: Up until December 6, 2019 12 AM, you may request a refund minus a $200 non-refundable deposit. This is necessary for us to plan and schedule accordingly the number of guests to anticipate.
Whole Week: Up until December 6, 2019 12 AM, you may request a refund minus a $300 non-refundable deposit. This is necessary for us to plan and schedule accordingly the number of guests to anticipate.