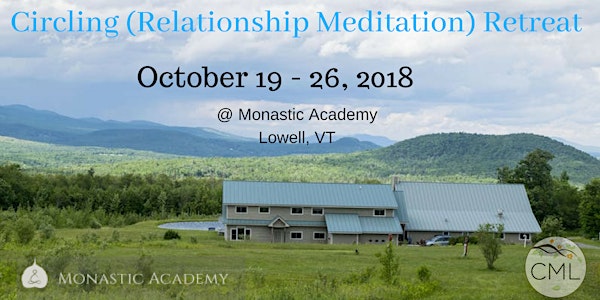 Circling (Relationship Meditation) Retreat @ Monastic Academy October 2018
Event Information
Location
Monastic Academy - Home of the Center for Mindful Learning
751 Page Road
Lowell, VT 05847
Description
Weekend and Week-Long Circling Retreat
Join the Monastic Academy as we embark on a journey weaving together silent meditation and Circling (relationship meditation) for our intensive retreat of October. We provide the option to join us only for the weekend (Fri - Sun) retreat or continue on with the rest of the week (Mon - Fri).
Circling is a set of interpersonal practices, principles, and meditations that open up new ways for people to relate with each other. It brings people into direct contact with the dynamics that underlie relationships and invites them to use this rich interpersonal field as a place from which to glean relational blindspots, freedom, and healing. Often by dropping our views and slipping deeper into the immediate experience of relationships a doorway to a world beyond words opens, offering a taste of transcendence.
Circling is also a wonderful way to integrate and bring our mindfulness practice off of the cushion into everyday relationships. Rather than falling back into small talk or habitual ways of relating, we can identify, name, and explore what's present right here in connection.
This provocative, and alternately unnerving and deeply calming practice of Circling will be complemented by traditional practices of silent sitting practice, chanting, and more. The skills that we learn in working directly with our own minds in turn support working with others and vice versa. This will be a time of deep practice where the days will be rigorous and rewarding.
This retreat will be the third Circling residential retreat hosted by the Monastic Academy. Circling was introduced to the Academy by one of its residents and assistant teacher Peter Park several years ago. The rich contemplative culture and beautiful surroundings of the Academy allows for a safe, trustworthy space for people to see new ways of being and relating.
Note, Circling and meditation are not replacements for therapy or medicine. If you have mental illness or significant challenges, you may be served better by seeking out a therapist. This retreat is often intensive for folks and can bring up our triggers and traumas and allow us to experience and develop ourselves in a community. You step into the retreat with the willingness to experience others and yourself with basic skills of self-awareness.
Timeline:
Friday - Sunday
The week will begin with a weekend-long course that introduces people to the basics of Circling including group exercises, guided meditations, and sharing reflections. The weekend is open to anyone interested in meditation and Circling. No prior experience is required in mindfulness or Circling.
Monday - Friday
On Sunday afternoon a smaller group will take a dive into five days of deep meditation and Circling. We will explore the farthest edges of our comfort zone, transcend our fixed perspectives, and meet each other in new ways. For those unable to stay the full five days, special arrangements can be made for shorter durations stays. Given the special depth of a week-long Circling retreat, we require speaking with anyone wishing to do the week-long to verify it's a good fit.
Price:
*If a ticket is sold out, please email info@monasticacademy.com to be added to a wait list *

* Note cost of the program, room, and board is included in prices below. Week-long tickets include the weekend portion ticket. *
Weekend Early Bird Discount Tickets (expires September 9)

$250.00 for the week per person, for a shared room
$350.00 for the week per person, for a solo room
Weekend Standard Tickets

$300.00 for the week per person, for a shared room
$400.00 for the week per person, for a solo room
Week-long Early Bird Discount Tickets (expires September 9)

$600.00 for the week per person, for a shared room
$750.00 for the week per person, for a solo room
Week-long Standard Tickets
$700.00 for the week per person, for a shared room
$850.00 for the week per person, for a solo room
For those with financial struggles, please contact info@monasticacademy.com. There are limited discounted tickets in exchange for work-trade. We can also talk about special pricing for those wishing to stay beyond the weekend but not the whole week.
There will be a dana talk (donation workshop) at the end of the retreat on how to stay connected and help donate to the center. All funds will go towards continuing the training of the monastic residents and guests. The success of this program allows for these retreats to continue. All donations at the end of the retreat are 501(c)(3) tax deductible.

Testimonials from Past Circling Retreats:
"The retreat was amazing, eye and heart opening for me! I returned from it changed! It is so healing to be fully received and loved unconditionally with presence for who you truly are." - Catherine
"I felt safe going to challenging places within myself and was glad to support others in the same. And the food, accommodations, and beautiful setting were all amazing!" - Anonymous
"Full of curiosity and interest, I jumped in without many expectations or knowledge of where I was going...I felt at ease to express my feelings and thoughts, but also my needs. I felt like I was offered a safe, loving, and welcoming container, to explore my experience, whatever it might be." - Stécie
"Wow! What a uniquely special retreat where we can more deeply connect on an authentic level with ourselves and others in a safe environment. I highly recommend this for anyone remotely interested in either meditation or Circling!" - Anonymous
Property:
MAPLE is located at the end of a mile long private driveway that winds high up a hill. Our 123 acres is abundant with wildlife and boasts commanding views out over the Green Mountains with wonderful trails through the woods. Recharge and reexamine your life in this peaceful setting where the trees, the rains, the winds, the sun, the snows, the frogs, and the stars still speak.
Facilities:
Our buildings are newly built with an elegant simplicity. With wood and plenty of light and air throughout they have a comfortable and human feel. The main room is large and serves as our dining room and event space. Two lounges and a loft that are great for reading and relaxing.
Accommodation:
We have rooms with queen beds and single beds. Guests either have their own room or share a room with others. Every room has wonderful views, wood floors, a comfy bed with linens, and shelves for storing personal items. There are shared bathrooms.
Food:
Twice a day we serve simple, healthy, abundant vegan meals.
Fragrance-Free:
Please arrive at the center fragrance-free. Members of our community are very sensitive to fragrance, which is found in personal hygiene products (soaps, shampoo, body wash), clothes washed with some laundry detergents and dryer sheets, and perfume or cologne. Please be fragrance-free at all CML events - learn how here.

Directions:
We are located at 751 Page Road in Lowell, Vermont.
CEDAR is a non-profit 501(c)(3) organization devoted to developing trustworthy people to create trustworthy culture. MAPLE (Monastic Academy for the Preservation of Life on Earth) is a full-time leadership and meditation residential training program to cultivate leaders who embody wisdom, power, and love for all living things.
Check out our web site for more information.
Feel free to call or email with questions: info@monasticacademy.com / +1 (802) 540-0820
Refund Policy:
Weekend: Up until one week before the retreat starts you can get your money back minus a $50 non-refundable deposit. No refunds after October 13th.
Week-long: Up until one week before the retreat starts you can get your money back minus a $100 non-refundable deposit. No refunds after October 13th.
Date and time
Location
Monastic Academy - Home of the Center for Mindful Learning
751 Page Road
Lowell, VT 05847
Refund policy