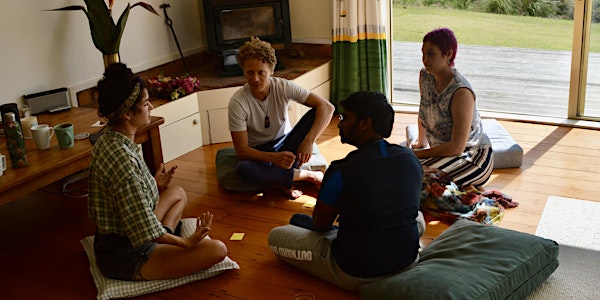 Circling: An Interpersonal Meditation with Laurie King
Are you desiring a safe space to really see and be seen? Welcome to this deep dive into the enriching communication art of Circling!
When and where
Location
The Center SF 548 Fillmore Street San Francisco, CA 94117
Refund Policy
Refunds up to 30 days before event
Eventbrite's fee is nonrefundable.
About this event
Are you tired of chit-chatty convos that just skim the surface?
Are you desiring a safe space to really see and be seen?
Are you seeking more genuine, present, heart-centred humans in your life?
All parts of you are welcome to this deep dive into the Authentic Relating practice of Circling.
Circling is an organic, in-the-moment, embodied interpersonal group process that's equal parts art form, meditation, and group conversation — all designed to allow a visceral experience of connection and understanding of another person's world, celebrating who and where they are right now.
Together, we will create a rich container to explore each of our human experiences: our secrets, treasures, and triggers. Through Circling, we can enquire, understand and celebrate the realness of interpersonal dynamics.
You will have the opportunity to try different types of Circles, in both larger and smaller groups. You also have the chance to practice facilitating a Circle, developing your own space holding skills.
Is this workshop for me?
This workshop is for anyone who is seeking deeper connection, stronger community, advanced communication skills, enhanced embodied awareness, or simply desiring a safe space to just be yourself.
If you've found yourself recently feeling blocked, anxious, lacking purpose or direction, and need to reground and remind yourself what's truly important and who you truly are, this event is for you.
We look forward to welcoming you into a beautiful container that is sure to inspire you to step further into the kind of life you want to manifest.
What will actually happen?
The event will involve some warm up exercises to help you connect more deeply with your sensations. It will then involve two Circling practices in large groups, and two in small groups. Throughout the workshop, the theory of Circling will be explained and discussed so as to give you a deeper understanding of WHY it is a valuable and nourishing skill. You will be encouraged to take this skill beyond the workshop to make every part of your life even more meaningful and wonderful.
The space-holder:
Laurie King
I'm Laurie, and I am dedicated to enabling human-to-human relationships to arise, deepen and flourish. I have organised and facilitated over 200 Authentic Relating, Dating and Embodiment workshops in Oceania and Europe. My training includes the Authentic Life Course, the International School of Temple Arts, and the Connection Institute. My portfolio includes internationally acclaimed festivals such as Stretch, and organisations such as ART International.
My workshops have sparked thousands of nourishing connections, turning many strangers into life-long friends. I look forward to holding space for you!
Here's what people have said about my worskhops:
""This was a game changer for me. I'm blown away on a daily basis as to how easy communicating and relating has been since doing Laurie's incredible workshop"" - Andy
""Laurie led us through a series of games and exercises that allowed us to open up and create very real bonds with others and with our own selves. Many emotions were felt in the safest most welcoming environment"" - Jason
​""I felt so deeply and beautifully seen, heard and held by everyone in the group, and that was in large part because of Laurie's gift of facilitation"" - Megan
""I'm amazed at how your workshops continue to lift me up. It's such a delight to meet new people, genuinely, and feel the warmth and excitement of budding connections"" - Doug
For more info, check out itoiauthenticrelating.com