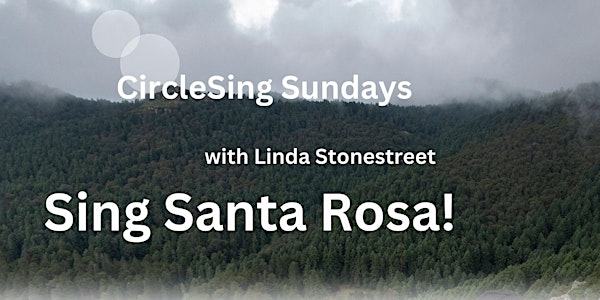 Multiple dates
CircleSing Sundays - Sing Santa Rosa! with Linda Stonestreet
Circelsinging is community singing tradition - a guided participatory musical ritual to create music in the moment solely for enjoyment.
Date and time
March 19 · 10am - April 30 · 12pm PDT
Location
Luther Burbank Center for the Arts 50 Mark West Springs Road Santa Rosa, CA 95403
About this event
Circlesinging is an ancient community ritual where people of good will gather together in the shape of a circle with a guide who leads improvised patterns and creates music in the moment. The singing is meant to fill up the space and bodies of all who share the experience. Through the use of movement, sound and sometimes words, we collectively create rhythmic patterns and melodic structures to add to the flow and depth of the experience. The purpose of this gathering is to elevate the spirit. Singers of all levels welcome. Please arrive healthy. 30 people max.
Linda Stonestreet is the founder of the Sing! Project, a regional initiative, seeding and networking circlesinging groups and vocal improvisation workshops for the purpose of growing and strengthening community, with a broader vision of expanding a network for the global vocal improvisation communities. Born in the San Francisco Bay Area, she is mentored (7 years) by Rhiannon in her Vocal River traditions and conducts vocal improvisational groups. She is a Singer-Songwriter, recording artist with 40+ songs published across multiple-genre. As a former civil servant in California State's Natural Resources Division, she utilizes her experience in State government practices and expertise in water issues to grow capacity in rural communities throughout California with Rural Community Assistance Corp. She is initiated in Andean indigenous traditions mentored (7 years) by Marti Spiegelman MFA and (7 years) by Jose Luis Herrera.
Frequently asked questions
Do I have to read music to be part of the circle?
Do I have to be a trained singer to join the circle?
About the organizer
Linda Stonestreet is a Singer Songwriter, vocal improviser and ceremonialist. She has studied with Rhiannon since 2016 and has twice graduated Rhiannon's esteemed All the Way in program. She believes that song is medicine for these times, for all times. And, as such she is inspired to hold space for music as a collective endeavor.