Circle The Wagens (VW Car Show & Festival)
About this Event
Circle The Wagens is a vintage VW car show and swap meet festival that is hosted by a group of local businesses who love vintage Volkswagens.
All proceeds from Circle The Wagens will go to DREAMS of Wilmington. DREAMS is a national award-winning nonprofit dedicated to creating a culture of confidence for youth and teens, through equitable access to arts education, supported by the values of respect, family, & community. Find more information at:
https://givetodreams.org/big-dreams/
If you have a vintage Volkswagen from the 50's up to the early 90's, please feel free to register your car. We want to see it all! We have 5 categories to register your car under.
Categories: Best Paint, Most Unique, Best Survivor, Best Rat Rod, Best in Show!
There will be raffle prizes troughout the day as well as live music! Food trucks will be onsite, art and craft vendors, and VW parts vendors. This will be a swap meet so feel free to bring stuff you do not need in the garage. Waterline Brewery will be letting us use their parking lot and the bar will be open serving their amazing locally brewed beer. This is a family and pet friendly event, and general admission is FREE! All vendor sales are not included in the nonprofit. Registration fees will go towards DREAMS of Wilmington. This is a rain or shine event!
Waterline Brewing:
https://www.waterlinebrewing.com
Our special sponsors will be on-site serving everyone out of their Volkswagen mobile businesses. We will have:
Little Green Booth, a mobile photo bus with a photo booth inside a VW bus that prints & emails on-site!
www.littlegreenbooth.com
Panecea Brewing, a mobile bar bus that has taps on the side serving locally brewed Kombucha!
http://www.panaceabrewingcompany.com
Boombalatti's, a mobile ice cream bus that serves the best homemade ice cream out of a VW bus!
https://www.boombalattis.com
Mother of Wild Flower House & Event Co. a mobile flower truck, serving beautiful hand picked flowers out of a vintage VW single cab truck!
https://www.shelovesmeflowerco.com/?fbclid=IwAR1-fM7qSgrk94iUuezwezfjVhR57_VU43ZG9UjZmdgFzAXaOsLE4ROVnTo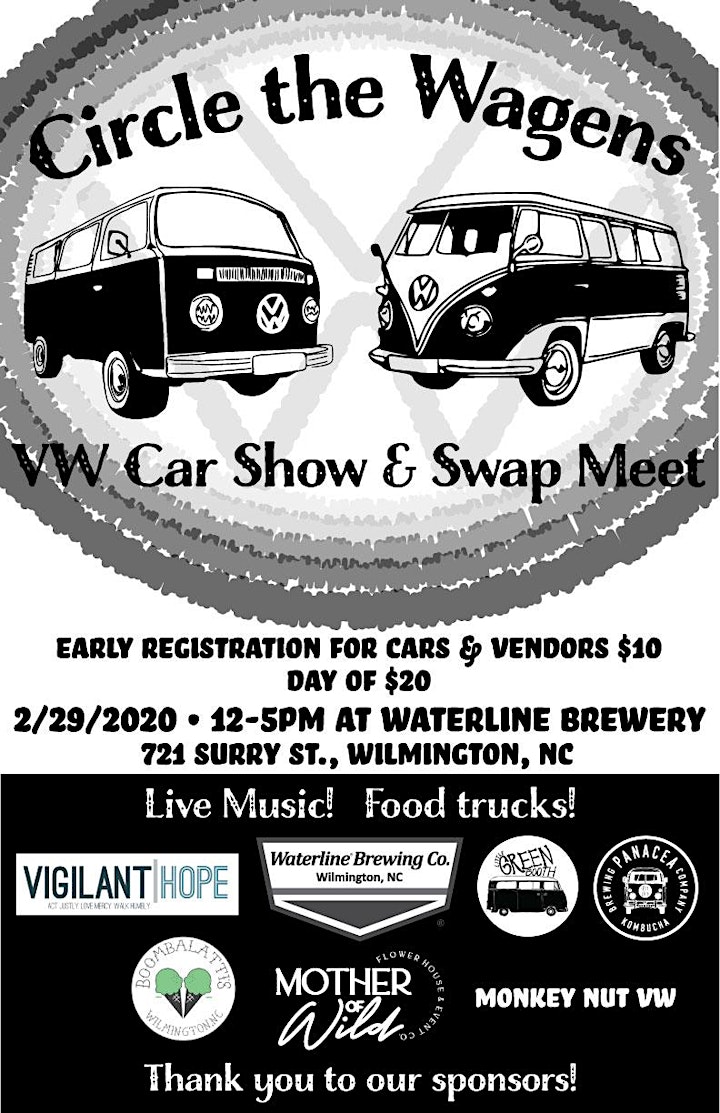 If you have any questions or would like to be a sponsor for this event please contact us by email at:
circlethewagens@gmail.com