Actions and Detail Panel
Circle the City with Love - Going National 2017
Sun, January 15, 2017, 3:00 PM – 3:30 PM EST
Event Information
Location
Locations Across the Nation & Beyond
Description
Our nation has just endured one of the most divisive and hate-filled election seasons in our history. We need to begin anew!
Want to be apart of spreading love into the world? Let's circle ALL our cities with love, but we need your help!
Join us on January 15th, 2017 for a peaceful event to show the unifying and transformative power of love to the world.
Who: All are welcome! Anyone can create a circle by registering as a group or individual.
What: The simple act of holding hands and standing together as one in silence for 30 minutes.
Where: Locations across the nation & beyond. Register as a group manager to get you and your family, friends, and coworkers involved!
When: 1/15/17, 3:00 – 3:30 pm EST
Suggested Tips for Successful Group Leadership:
Start gathering your group around 2:30 pm EST

As 3:00 pm EST approaches, use a bullhorn, bells, whistles, etc. to call the group together (and again when the silence begins and ends)

Just prior to the silence, recite the pledge out loud with your group (refer to link below for pledge on website)

Begin the silence at 3:00 pm EST and end the silence at 3:30 pm EST

Encourage participants to wear some visible sign of Circle the City with Love (CCWL), which can be obtained through the online store on our website

Contact your local media for coverage

Take and/or encourage others to take photographs, comments for posting on website and social media

Offer a sign of peace to one another as an ending
***We advise group managers to create a group name INCLUDING city and state (for example - Saint Joseph Center, Cleveland, OH)
**For event updates in different areas please refer to Circle the City with Love on Facebook and Twitter.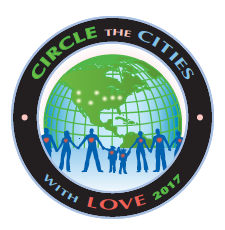 Date and Time
Location
Locations Across the Nation & Beyond