Circle The City: Open Streets, Open Parks

Sunday, July 14, 2013 from 11:00 AM to 4:00 PM (EDT)
Event Details
Circle The City builds community, encourages family fun, supports local businesses and promotes safe, car-free physical activity linking neighborhoods and parks for a healthy, vibrant Boston.  Free and open to everyone, Circle the City will temporarily transform Huntington Avenue into a 'paved park', featuring fitness clinics, biking and walking tours, kids' games, yoga, art activities, live music, and dance classes. 
 
Check us out on facebook, twitter, and our website!
http://www.CircleTheCityBoston.org/
Schedule of Events for July 14th: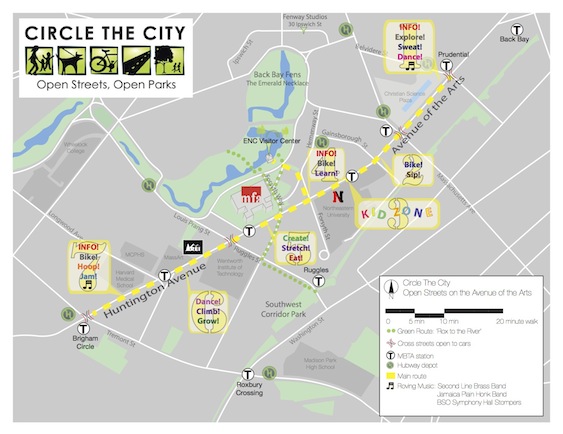 Roaming Events:
(11am- 12pm) Second Line Brass Band - New Orleans Style Brass Band Performance
(1pm) BSO Symphony Hall Stompers - Dixieland Music Performance
(2-4pm) Jamaica Plain Honk Band - Jazz, Funk, and Rock Marching Band Performance
Zone 1:
(11am) Fenway Alliance - Tour of Convergence, Boston Sculpture Group's exhibition
                                                                        ***Meet at Christian Science Plaza
(11am-12:30pm) Boston By Foot and Walk Boston - Tour of the "Avenue of the Arts" 
                                                ***Meet in front of the First Church of Christ Scientist
   (11am-12pm) Afrika Gente Drum Ensemble - Drum Performance  
(12:30-2:30pm) Zumba with Nancy DeLeon and Joya Lonsdale - Zumba Class
   (1-2:30pm) SoulWorks Coaching – Interactive Drum Circle
    (1:30-4pm) OnStage Dance Company
                                      -Hip Hip, Jazz, Stepping, and Contemporary/Ballet Dance Classes
All Day (11am-4pm):
        Information Tent 
                           Boston Ski & Sports Club - Corn Hole and Ladder Ball
           LivableStreets Alliance - Orange Line Photobooth
               Mary Baker Eddy Library - Scavenger Hunt and Crafts
           Boston Children's Theatre - Ticket Give-away
               Fenway Open Studios ­– Visit Artists' Studios on 30 Ipswich Street
           Renew Boston / Next Step Living -Learn about the Mayor's Renew Boston Program
Food Trucks: Captain Marden's Seafood, Inc.
Zone 2:
All Day (11am-4pm):
Boston Cyclists Union - Demonstration Cycle Track, Pop-Up Cafe, and Live Music
Zone 3:
            (12-2:30pm) Cooking Matters MA - Healthy Eating Tips and Recipes, Grocery Store Tour
            (12-1pm) Boston Breakers -Soccer Skills, Autographs, and Photos
            (1-4pm) Super Soccer Stars - Soccer Clinic for ages 2+
            All Day (11am-4pm):
                        Yours For Children, Inc. - Dance and Healthy Food Games
                        Big Brothers Big Sisters - Chalk Art
                        Bowdoin Geneva Youth Group - Veggie Twister
                        Boston Collaborative for Food and Fitness - Wheel Activity
                        Mass Audubon Nature Center - Nature Activities and Crafts
                  Bikes Not Bombs - Bike Check-Ups, Games, and Bike Machines
                  Mattapan Food and Fitness 
Zone 4:
            (12pm and 3pm) MassBike - Bike Rides around the Fens
            (1pm and 2:30pm) Emerald Necklace Conservancy  - Back Bay Fens Guided Walk 
                                                                               ***Meet at the ENC Visitor Center
All Day (11am-4pm):
                      Information Tent
                      Greenovate Boston - Carbon Challenge
                      Metro Area Planning Council - Green Map App
                 Boston Bikes - Bike Rodeo and Free Bike Rentals         
                                                               ***bring collateral for Free Bike Rentals!
                 MassBike - Safety Clinics and ABC Quick Check Clinics
                       Northeastern's Husky Environmental Action Team (HEAT)
                                                                                                        - Recycle Games and Education
Zone 5:
            (11am-12pm) Body By Brandy - Hip Hop and Dance Aerobics         
            (12,1, 2, 3pm) OMBE – Yoga Classes 
                               ***BYO mats and towels and pre-register at http://goo.gl/2FNxr
            (2-3pm) Boston Conservatory's Boston Percussion Group - Musical Performance           
            (2-4pm) Brite Lite Brite - Musical Performance
All Day (11am-4pm):
                      MFA - Carp Streamer Making
                      MFA - Family Art-Making Activity
                      New England Revolution - Speed Kick
                Chalk Mazes
        Sustainable Business Network of Massachusetts 
                                                       - Info about Boston Local Food Festival
               Food Trucks  Batch, Green Bean, Singhs Roti
Zone 6:
(12-2pm) Salsa Y Control - Salsa Lessons
            (1:30-4pm) Cambridge Science Festival - STEM Activities
            All Day (11am-4pm):
                       REI - Climbing Wall and Cross-Fit Classes
                       Green City Growers - Urban Farming Game
                  Still Running: An Art Marathon for Boston
                                 - Art-Making to benefit those affected by the Boston Marathon Bombing
                 Sociedad Latina - Music, Dancing, Community Survey
               Food Trucks:  Compliments Food Co. 
Zone 7:
            (11am-1:30pm with classes every 45 minutes) Boston Hoop Troop
                                                                       - Hula Hoop Skills Workshop and Demonstration
            (TBD) Urban Speed Bumps - Participatory Art Installation
            (11 am- 2pm) Thrive in Five - Fun Summer ideas for Children Age 0-5 and Preschool Sign-ups
            (12-3pm) CommonWheels Bike Co-Op - Helmet Decoration 
(12-4pm) Greater Boston Sickle Cell Disease Association - Health Information
(1pm) Jessica Mink of Rozzie Bikes - 11 mile Bike Tour  
                                                                                  ***Pre-register at http://goo.gl/KnYmh 
(TBD) Brigham and Women's Hospital - Asthma Education
All Day (11am-4pm):
                       Information Tent
                       Boston Children's Hospital Labs of Cognitive Neuroscience
- Giant Brain Puzzle and Brain Teasers
                  JP's Fitness Solutions - Fitness Challenges
                  SockFaerie – Sock Vendor
                  Bright-Bike - Bicycle Powered Chargers
                  Zipcar - Memberships, Games, and Free Swag
                  Mission Hill Health Movement  - Farmstand
                  Writers and Artists Corner
                                     - Book and Art promotions, Book Signings, Origami Lessons, Chinese Lessons
                  Janettes Designs - Embroidered clothing vendor
                  Helen Manzella  - Musical Performance
                  Naked Juice - Food Truck
When & Where

The outbound side of Huntington Avenue between Tremont Street (Brigham Circle) and Belvidere Street (Prudential)
Huntington Avenue
Boston, MA


Sunday, July 14, 2013 from 11:00 AM to 4:00 PM (EDT)
Add to my calendar
Organizer
Circle The City is partnering with the Boston Collaborative for Food and Fitness, the Boston Cyclists Union, the Emerald Necklace Conservacy, LiveableStreets Alliance, Sustainability Guild International and the City of Boston. Lead sponsors are The Barr Foundation and Blue Cross Blue Shield of Massachusetts.