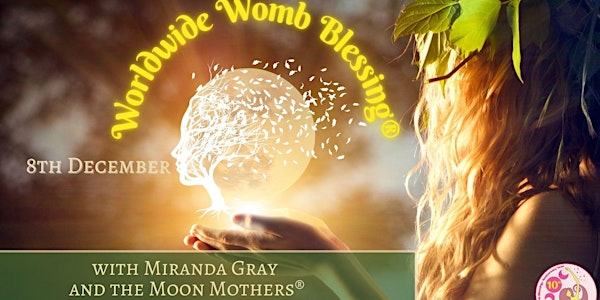 Circle Of Sisters Meditating Into The Cyclical Nature & Sisterhood Of Women
Our purpose as women is simple to be authentically female and accept, love enjoy and express the amazing energies and gifts that it brings
Refund Policy
Contact the organiser to request a refund.
Eventbrite's fee is nonrefundable.
About this event
AmaWomb presents association with World Wide Womb Blessing® Miranda Gray & Moon Mothers®
Circle Of Sisters Meditating Into The Cyclical Nature & Sisterhood Of Women Meditation and female Healing event
My name is Amanda of AmaWomb: Moon Mother Priestess of the Rose. My wish is to help you grow into the amazing, wonderful, and beautiful WOMAN that lies within by bringing you back to your female body awareness and creative wholeness.
I invite you to experience the following with me:
Learn about the powerful cycles of the moon and it's connection with the Feminine Cycles
World Wide Womb Blessing Meditation & Healing Transmission holding the energy of divine love, specifically designed for a woman's body..
Meditations to connect with our core female roots, our Yoni, and Mother Earth to bring healing and sacredness to all women, a prayer cord ritual,helps us to embody completeness, centredness, stillness, inner peace, balance and harmony to our feminine cycles .
Blessing to support us in living as authentic, heart-centred, and empowered women every day.
Here are some of the Gifts you'll experience and receive from of this womb blessing attunement:
Physical healing: ; the blessing offers us deep healing especially linked to our root core energy that looks after our feminine cycles.
Emotional and mental healing:; releasing and clearing of old emotions, stresses and patterns, supporting us to love and accept our femininity more, to feel our purpose in life, and to create a new better life for ourselves.
Cycle balance and harmony:; supporting a return to a balanced menstrual cycle,bringing harmony to the emotional and mental expressions of its energies and phases.
Happiness and joy:releasing the guilt and restrictions placed on us so that we can bring harmony to the emotional and mental expressions of our feminine cycles
Peace and restoration:; providing a peaceful sanctuary from the stressful masculine world, bringing feminine restoration and inner reunion
Replenished creative and sexual energies: healing the bonds with Mother Earth and a reconnection to our womb centre,which is where our creative and sexual energies are.
Vitality:; feeling revitalised,centred and whole.
Sacredness of our body: reconnecting deeply to the light of the moon so that we grow in conscious awareness of the expression of the sacred feminine through our body, our cycles and the cycles of the moon and the universe.
Empowerment:; awakenings our self-confidence and inner strength, empowering us to grow in our femininity and create better lives for ourselves and the positive ripple effects of this.
Here are a few sharings from amazing and beautiful women who have joined me:
"Amanda Thanks so much for holding such a beautiful space last night. You were so clear but light hearted too. It felt really cosy and welcoming. I felt such powerful energies coming through my body in the meditation, especially in my womb and at one point felt like I was floating up by the ceiling detached from my body! I didn't want to leave and was hanging around for some of that fizz.Chole 💚"
"Amanda The information you gave me regarding energy throughout my cycle has totally transformed my understanding of myself. I am incredibly grateful! Emma Fairthorne"
Please join me in a sacred circle of women. i look forward to sharing this lovely female energy with you.
In love and light,
Amanda