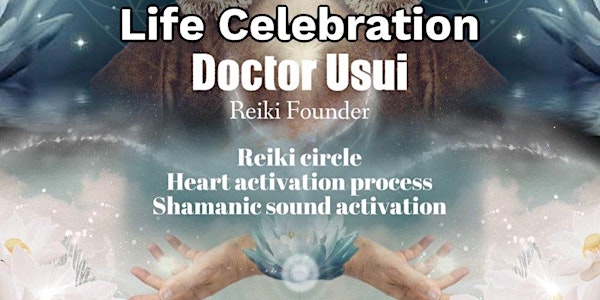 CIRCLE OF LIGHT
Circle of Light is created to enhance the energy of oneness, interconnection and love. We gather to bring more peace into our hearts.
When and where
Location
Zen Mystery 56 North Federal Highway Dania Beach, FL 33004
Refund Policy
Contact the organizer to request a refund.
Eventbrite's fee is nonrefundable.
About this event
CIRCLE OF LIGHT
About this event
Everything that has ever been created is a result of Source consciousness projecting itself. Frequencies of Source consciousness and Love are the same. We are all born in love and we are light and with an open heart to life.
It is difficult to feel love, feel the connection, feel Oneness, considering the disconnection that the majority of people are experiencing as a familiar state of being.
Separation exists within families, larger groups of people, and on a scale of the whole. Separation and lost perception of Oneness are the reasons for suffering within a single human, as well of the reasons for wars on a global scale.
"Circle of Light" healing circle is created to enhance the energy of oneness, interconnection, and love. We are gathering to bring more peace into our hearts and consequently to the hearts of the collective.
Using the practices of Reiki, Shamanic sound activation, we will connect to a healing frequency focusing on the heart and creating a powerful channel, channel of divine "Circle of light"
Circle of light Facilitators:
Julia
Julia is a generational energy healer who began the practice of energy healing in childhood. She was taught by her grandmothers, as she grew up in a family where energy healing, energy cleansing, and alternative medicine were a priority.
Through her life-long spiritual practice, Julia has acquired a lot of spiritual knowledge traveling all over the world, visiting an ashram in India, and studying with many teachers. Divine Reiki healing, healing through words and channeling, is Julia's main tools to provide healing to the world.
Vanessa
Vanessa fully committed to her holistic healing path in 2011, after moving to the United States and becoming a Licensed Massage Therapist. She finds real joy through working with people -helping them connect with their body and their essence. She practices massage therapy, cupping, Ayurveda treatments, Reiki, sound healing, and shamanic /ancestral singing. When she isn't working or expanding the Light with her friends, you'll find her singing with her drum and rattle, cooking something delicious in her instant pot, or enjoying loving quality time with her kitties.
What to expect:
We will open the circle by focusing on our intentions and a guided meditation for activation of the heart chakra and open yourself for self-healing with the power of love. A beautiful gathering in frame of monthly healing circle celebrating the love and life with Reiki healing circle, " heart activation process " energy healing, sacred shamanic sound journey and crystal healing.
Sacred shamanic sound activation and reiki healing from Vanessa and healing with source of divine reiki energy and "heart activation process "with Julia.
We'll close the evening with an integration circle
✨✨ Donation based event. Suggested Donation: $22 Pre-registration Required