Join community members, educators, parents, and students for CIRCLE's virtual weekly series, different speakers and dialogue each week.
About this event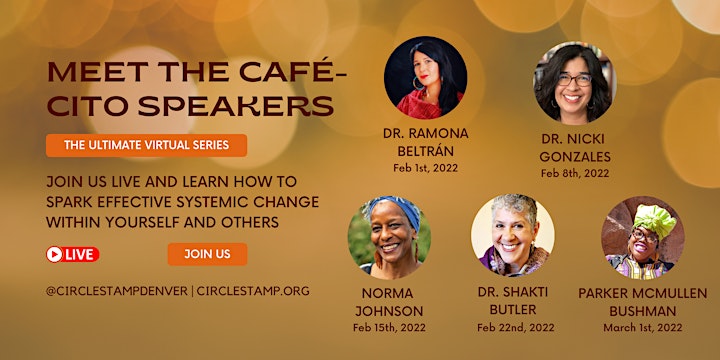 2022 CIRCLE Cultural Café-citos are an opportunity for our community to come together for a weekly experience centered around healing, justice, and expression.
The speakers during this series will focus on how to improve systems to promote diversity, equity and inclusiveness, the role of the community in creating systems of change, and cross cultural dialogue through the arts, academia and community care.
Each week you will hear from a different speaker and share in an interactive small group dialogue with a Q&A at the end of each session's call. The café-citos are centered in vision, dialogue, and action though each week will have a different speaker, the sessions will build upon each other and surely engage your heart, soul, and mind.
See the series session schedule with details on each session's topic and speaker below! Tickets are available for $25/session or $110 for all five sessions. Limited space available per session.
*Virtual series will be through the Zoom platform*
Series Session Schedule: Tuesday, 2/1 - 3/1 | 3:45 - 5:00 p.m. (MST)
Feb 1, 2022: There's More Medicine than Illness: Healing Historical Trauma in Indigenous Communities
Dr. Beltrán, MSW, PhD is a Xicana of Yaqui and Mexica descent and dancer/activist/scholar. As an Associate Professor at the University of Denver Graduate School of Social Work, her scholarship is committed to interrupting legacies of historical trauma that affect Indigenous and Latinx communities with a commitment to addressing issues facing LGBTQ and Two Spirit communities. She focuses on disrupting the problem-focused approach to understanding Indigenous/Latinx health that dominates mainstream research. She does this through centering culture in knowledge production with and for Indigenous/Latinx communities.
Feb 8, 2022: Love Letter to My Community: Lessons Learned as State Historian
Dr. Gonzales is a native of Denver, and her family has deep roots in Southern Colorado and Northern New Mexico. She specializes in the history of the American West, with a focus on race relations and social and political movements. Her research interests include the land grant movements of Southern Colorado and the experiences of Chicano Vietnam Veterans. She is also a mom and coach to her two sons, Danny and Teddy.
Feb 15, 2022: Journey to Become a Good Ancestor: A Brave New World
Norma is a spiritual healer, speaker, writer-poet-playwright, performance artist and facilitator that brings a creative background into her distinctive presentation form of social justice education and activism. Norma collaborates with a dynamic range of organizations, institutions, faith communities, arts, civic groups, and educational forums such as the highly regarded Annual White Privilege Conference. Her deeply moving poems are featured in racial justice courses taught by educators across the country. Her storytelling inspires awareness and insight and the power we have to bring paths of healing to our future. www.allinspirit.com
Feb 22, 2022: Introduction to Strategic Questioning: A Strategy for Social Justice *Note 90min Session, will end at 5:15 p.m (MST)
With Dr. Shakti Butler, PhD, visionary, filmmaker, transformative learning educator, wife, mother, grandmother and friend to many - is President and Founder of World Trust Educational Services, Inc.
Rooted in love and justice, World Trust produces films, curricula, workshops and programs that are catalysts for institutional, structural and cultural change. Shakti is an inspirational speaker, facilitator, trainer and lecturer who is sought after by schools, universities, public and private organizations, and faith-based institutions. Dr. Butler has produced five documentaries. The first four form the core of World Trust's teaching tools and have experienced increased exposure – over 30 million views of one clip alone -- generating national dialogue and critical thinking that is impacting institutions and communities across the country. These are The Way Home; Mirrors of Privilege: Making Whiteness Visible; Light in the Shadows and Cracking the Codes: The System of Racial Inequity. In 2017 Shakti premiered Healing Justice, intended to popularize a national conversation about justice, healing, and the youth-to-prison pipeline. Dr. Butler also served as diversity consultant and advisor on the Oscar-winning Disney animated film, Zootopia, which focuses on challenging bias and systemic inequity. Shakti's work incorporates whole body learning through stories, art, movement and dialogue.
March 1, 2022: Why Diversity, Equity, and Inclusion is Vital to Organizational Goals
Meet Parker, Chief Operating Officer of Inclusive Journeys, and founder of Ecoinclusive Strategies. Parker is a dynamic speaker and facilitator that engages organizations in new thinking around what it means to be a diversity change-agent and create dynamic organizational change. Parker's background in the non-profit leadership, conservation, environmental education and outdoor recreation fields spans over 24+ years. Parker has a passion for equity and inclusion in outdoor spaces. Her interest in justice, accessibility, and equity issues developed from her personal experiences facing the unequal representation of people of color in environmental organizations and green spaces. Parker tackles these complex issues by addressing them through head on activism and education. For 9 years Parker has worked with businesses to catalyze action to build culturally diverse and culturally competent organizations that are representative of the populations that they seek to reach and serve. Parker is the founder of the organization called Ecoinclusive Strategies. Ecoinclusive(ecoinclusive.org) provides training and resources for non-profit, cultural, and environmental organizations. In Parker's role as Chief Operating Officer she oversee the core operational functions of Inclusive Journeys. Inclusive Journeys (www.inclusivejourneys.com) is a tech company with a mission to create data-driven, economic incentives for businesses to be more inclusive and welcoming, resulting in safer spaces for people who regularly experience discrimination.
Parker brings a unique background to this work having served in top leadership for Marine Science, Environmental Educational, and Cultural Interpretive Facilities. Parker has served as the Vice President for Community Engagement, Education and Inclusion at Butterfly Pavilion, an Invertebrate Zoo located in Westminster, CO. She also served as the Director of Education for the Marine Science Consortium, a research and education center located on Virginia's Eastern Shore. Parker has a Master of Natural Resources from the University of Wisconsin Stevens Point, with a focus in Interpretation and Environmental Education. She leads several committees that focus on diversity in environmental fields as well as a presenter and trainer on diversity issues. She sits on the board of Environmental Learning for Kids, Metro Denver Nature Alliance, The Next 100 Coalition and the National Association for Interpretation.
Please contact with any questions or needs in order to participant at programs@circlestamp.org
Learn more about CIRCLE and what we offer on our website and follow us on Instagram!
Circlestamp.org | @circlestampdenver