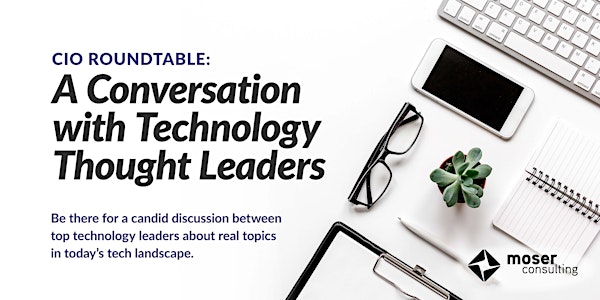 CIO Roundtable: A Conversation with Technology Thought Leaders
Be there for a candid discussion between top technology leaders about real topics in todays tech landscape
When and where
Location
Parkview Business and Technology Center 1050 Production Road Fort Wayne, IN 46808
About this event
We have invited four top technology thought leaders to have a roundtable discussion about real topics and solutions in modern business.
Possible topics discussed may include:
Implications concerning moving to the cloud - how to level set management expectations about backups, maintenance, emergency planning and costs
Staffing issues - how to get and keep good resources, how to compete, and managing company culture
Major implementations problems - when going to enterprise tools, how to manage change, cost and timelines
Strategic Alignment - having a seat at the decisions tables and integration into leadership
Presented by: Renaissance Executive Forums
Sponsored by: Moser Consulting
Hosted by: Parkview Health
The panelists (see bios below):
Clifford Clarke, CIO Forum Leader
Mike Loggins – Virtual CIO / Former CIO SMC
Shaun Daughtery – CIO Gibson
Brian Gray- CIO Medpro
Don Cates- CIO Three Rivers Credit Union
Schedule of the day:
7:30am Registration / Arrival / Breakfast Buffet
8:00am General Welcome / Greeting / Grab coffee
8:15am Round Table Introductions
8:30am Topic 1 download
9:30am Topic 2 download
10:30am Topic 3 download
11:30am Event concludes
We ask that attendees do not record the event. Any topics discussed should remain private and should not be discussed outside of the forum. This will allow our presenters to have a more open dialogue about real issues and problems.
Privacy Preferences:
By signing up for an event with Moser Consulting, you agree to receive email communications about the event and about our products and services. If it is necessary to ship an item to you we will also require that an address is provided. We will never sell your personal information. | Moser Privacy Policy.