CineTech Expo 2018: NJ's Premiere Video/Media Production Showcase
Description
Join the Fairleigh Dickinson Film Program & CineTech Media Professionals as we host CineTech Expo, a video and media production showcase educating filmmakers, media professionals, students and teachers about New Jersey-based video and media resources and services.
Admission is FREE for attendees!
Everyone is welcome from aspiring film students through seasoned industry professionals. CineTech Expo is the only media production show of its kind in New Jersey!

EDUCATORS: Earn 6 FREE Development Hour Credits!


---

FEATURED EXHIBITORS
New Jersey Motion Picture & Television Commission
Amboc Animation & Visual Effects
Arri Lighting
Atomic Veggies AR/VR
Canon
Cardinal Aerial Media
Cineo Lighting
CineTech Media Professionals
HD Pro Guide
Jersey Access Group (JAG)
JVC
LitePanel / Anton Bauer / Vitec
Mason Firm, LLC,
Matthews Studio Equipment
Mole Richardson Lighting
Panasonic
Society of Motion Picture Engineers
SONY
Student Filmmaker Magazine
Unique Photo
ZGC Film & Digital Equipment
Fairleigh Dickinson University Film Program
*More exhibitors to be announced!
---

GUEST SPEAKERS & PANELS:

10:30am-11:30am New Jersey Motion Picture & Television Commission:
NJ's Proposed Tax Credit Program: Eligibility for Filmmakers & How it Works
12:30pm-1:30pm
Jennifer Turner, Senior VP of Dramatic Programming, Sony Pictures Television:
Discussion with David Landau on the future of Dramatic TV
2:30-3:30pm New Jersey Film Festival Round Table:
Getting In & Getting The Most Out
4:30-5:30 Adam Willis, Cardinal Aerial Media
Best Drone Photography Tips & Tricks
---

GEAR & PRODUCT DEMOS:
Canon: Canon C200 camera
Cineo Lighting: New LED soft light
Matthews Studio Equipment: Dutti Dolly
Mole Richardson: LED Fresnel light
*More to be announced!
---

LOCATION: Hennessy Hall Mansion, Fairleigh Dickinson University, 285 Madison Ave., Madison, NJ 07940
---

IT'S A WRAP! FREE NETWORKING AFTER-PARTY: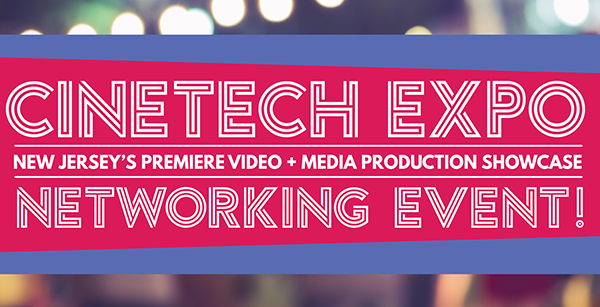 Join us post-show to expand your network and fellowship in the New Jersey video and media production industry. Cash bar and cash food. Bring business cards! FREE tickets here: https://tinyurl.com/y7q2ybdn
Time: 6pm – 9pm (or until the fun runs out)
Location: Vanderbilt's Sports & Spirits bar at the Wyndham Hamilton Park Hotel, 175 Park Avenue, Florham Park, NJ (Walking distance from Hennessy Hall Mansion)
---

SOCIAL MEDIA:
Follow us for announcements!
Facebook: https://www.facebook.com/cinetechexpo/
Instagram https://www.instagram.com/cinetechexpo/
Twitter: https://twitter.com/CineTechPros
Website: CineTechMediaProfessionals.org
---

EXHIBITOR & SPONSORSHIP OPPORTUNITIES:
Please contact David Landau, Cinematography Director at Fairleigh Dickinson University at landau@fdu.edu to learn more about exhibiting or speaking at CineTech Expo.
---

The Official Food Truck of CineTech Expo: Oink & Moo! (click logo to view menu)