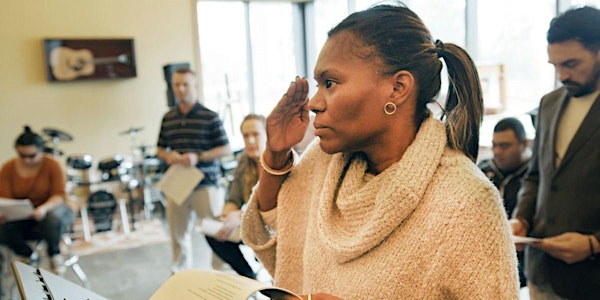 cinéSPEAK and Philly Vets for Peace present We Are Not Done Yet
When and where
Location
Rotunda 4014 Walnut Street Philadelphia, PA 19104
Description
Every 2nd Thursday of the month, you can catch a wide array of films at
The Rotunda
, curated by filmmakers and presenters from all around the city as part of The Bright Bulb Screening Series.
This November, courtesy of
HBO
,
CinéSPEAK
and
Philadelphia Veterans For Peace
, present WE ARE NOT DONE YET (2018) -- a riveting exploration of trauma and resiliency from within our U.S. veteran community.
with Post-Screening Discussion + Performances to-follow
We Are Not Done Yet (2018)
Directed by: Sareen Hairabedian
Produced by: Jeffrey Wright
Running Time: 1 hr 20 min
Since 2001, 2.77 million U.S. service members have been deployed to support American war efforts. Approximately 14 to 20 percent of veterans who engaged in conflicts in Iraq and Afghanistan experience PTSD, while 32.4 percent of female veterans report having experienced military sexual trauma.
Directed by Sareen Hairabedian and produced by Jeffrey Wright (Emmy winner for HBO's Angels in America, two-time Emmy nominee for HBO's Westworld) and David Holbrooke (HBO's The Diplomat), We Are Not Done Yet profiles a group of veterans and active-duty service members as they come together to combat past and current traumas through the written word, sharing their experiences in a United Service Organizations writing workshop.
WATCH THE TRAILER HERE: https://www.youtube.com/watch?v=YiDUJqKxBnc
ABOUT PHILADELPHIA VETERANS FOR PEACE:
Veterans for Peace (VFP) is a national organization founded in 1985 comprised of members across the country.
As Veterans for Peace we draw on our personal experiences and perspectives gained as veterans to raise public awareness of the true costs and consequences of militarism and war - and to seek peaceful, effective alternatives. Our collective experience tells us wars are easy to start and hard to stop and that those hurt are often the innocent.
Philadelphia VFP members are working to stop the wars in Iraq and Afghanistan, show youth alternatives to militarism and violence, stopping the global plague of landmines and clusterbombs, and ending the horror of gun violence.
More Info: www.vets4peacephila.org
We are a Philadelphia-based organization that engages diverse audiences through our independent, repertory + foreign film programming; creating space + centering the stories of individuals and communities that are often underrepresented in mainstream cinema.
We promote community togetherness + global understanding by engaging film enthusiasts while cultivating the next generation of discerning moviegoers; encouraging people to demand social justice both on-screen + throughout society.
@cineSPEAK -- Twitter + Instagram