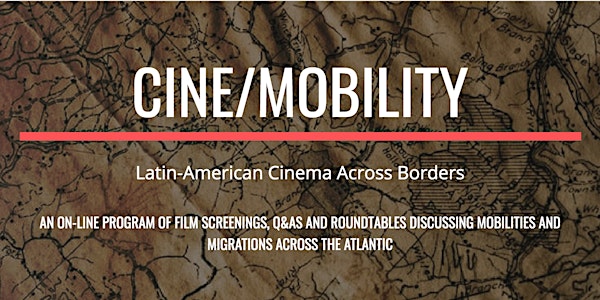 Cine/Mobility On-Line Film Fest:Latin-American Cinema Across the Atlantic
An On-Line Film Festival About Transatlantic Mobility and Migration. To book a place for each event, please click on "Details".
About this event
What are the connections between the mobility of people, films and cultures? And how do these movements across borders take part in the hybrid histories, politics and communities of Latin-America? The "Cine/Mobility" on-line film festival is an academic and curatorial project exploring multiple paths of mobility and border crossing between Latin-America and across the Atlantic, focusing on stories and experiences of migration, community-making, solidarity and resistance. "Cine/Mobility" offers a complex understanding of the relationship between cinema and border-crossing, in its political, economic, and cultural consequences by stimulating a dialogue between specialised publics, industry professionals and academics.
The festival consists of two strands: a program of virtual screenings and a series of round tables with film professionals and stakeholders. Every week we release a limited number of free tickets to see a film or a program of shorts, and you can also take part to roundtables and Q&As sessions for free, prior registration (see "Details" and the tickets for each event).
Program Summary (Visit our website for more info)
Opening Week
5 Oct - Screening "Yuli" (2018) Icíar Bollaín (available to UK and ROI users only)
UPDATE!
6 Oct, h. 18 - Q&A with Icíar Bollaín director of "Yuli"
Week 2 Mobilities & Movements
11-15 Oct - Short Films Movements & Mobilities: "La otredad. Derecho de Migrantes/The Otherness. Migrants' Rights" (Lucía Presta, Eliana Page, Mery Gómez and Camila Ingeniere, Arg- Col, 2017), "Marielle's Legacy Will Not Die" (Leonard Cortana, Brasil, 2019), "Historias Urgentes: Resistencia, voz y voto/ Urgent Stories: Resistance, voice and vote" (Nosotras Audiovisuales, Chile, 2021).
Tue 12 Oct, h. 18 - Q&A with Short Film Directors
Wed 13 Oct, h. 18 - Round Table: Feminismos Transatlanticos (in Spanish)
Week 3 Moving Portraits
18-22 Oct - Screening "El diablo es magnifico/ The Devil is Magnificent" (Nicolas Videla, 2016 v.o. Subs. Spanish/English).
Wed 20 Oct, h. 18 - Q&A with director Nicolás Videla
Week 4 Identity & Communities
Mon 25 - Fri 29 - Screening "Miriam Miente/Miriam Lies" (Rep. Dom 2017, Natalia Cabral and Oriol Estrada)
Tue 26 Oct, h.18 Q&A with Natalia Cabral and Oriol Estrada, directors of "Miriam Miente" (by Twelve30 collective)
Wed 27 Oct, h.18 - Round table : Creating Publics
Week 5 Closing Week
1- 5 Nov - Screening "Estoy Acá (Mangui Fi)"
Wed 3 Nov, h. 18 Q&A with Juan Manuel Bramuglia and Esteban Tabacznik, directors of Estoy Acá (Mang Fui)
ESP: ¿Cuáles son las conexiones entre la movilidad de personas, películas y culturas? ¿Cómo estos movimientos transfronterizos participan en las historias, políticas y comunidades híbridas de América Latina?
El festival de cine en línea "Cine / Mobility" es un proyecto académico y curatorial que explora múltiples caminos de movilidad y cruce de fronteras entre América Latina y el Atlántico, enfocándose en historias y experiencias de migración, creación de comunidad, solidaridad y resistencia.
El festival consta de dos vertientes: un programa de proyecciones virtuales y una serie de mesas redondas con profesionales del cine y partes interesadas. "Cine / Movilidad" ofrece una comprensión compleja de la relación entre el cine y el cruce de fronteras, en sus consecuencias políticas, económicas y culturales al estimular un diálogo entre públicos especializados, profesionales de la industria y académicxs.
How to book a place?
You can book your free ticket to see films and attend all the events by clicking on "Details", you will receive instructions to access them on the day of the event, or the day prior the availability of the screening.