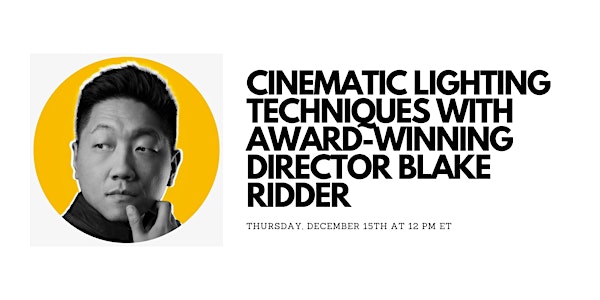 Cinematic Lighting Techniques with Award-Winning Director Blake Ridder
Learn how to make your films more cinematic with great lighting tips on placement, light functionalities, camera movements, and more
About this event
Adorama 42 LIVE: learn how to get the most out of your gear, learn new skills, tips and tricks, and elevate your creativity!
Sponsored by Godox
Join award-winning director Blake Ridder has he teaches you how to make your films authentically cinematic using Godox lights. Blake will be showing you behind-the-scenes content from some of his films while explaining which Godox lights he used and how he navigated lighting essentials such as light placement and camera movement.
About the Presenter
Blake Ridder is an award winning British director, writer and actor. He is best known for writing and directing in the multi-award winning directorial debut feature film Help (2021). During the early part of Ridder's filmmaking career, he wrote, directed and starred in various short films, including the multi-award winning The English Teacher (2020). Blake was born in Shanghai, China, later moved to UK with his parents at the age of nine. He began his acting career in 2017 and wrote and directed his first short film a year later. He is also the founder of Ridder Films, an independent production company based in London.
Website: ridderfilms.com
YouTube: @BlakeRidder
TikTok: @Blake.ridder
Instagram: @blake.ridder