Description
The United Nations and Time For Equality present
THE WORKERS CUP
Monday, 26 March 2018, 7 p.m.
Ciné Utopia - Luxembourg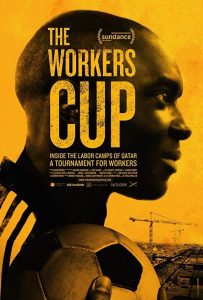 Inside the labor camps of Qatar, African and Asian migrant workers building the facilities of the 2022 World Cup compete in a football tournament of their own: The Workers Cup.
The film will be followed by a panel discussion with the participation of Film's producer Rosie Garthwaite

The film is in English and has a run time of 1 hours 32 minutes
Registration starts at 18:30 - Doors close at 19:00
In 2022, Qatar will host the biggest sporting event in the world, the FIFA World Cup. But right now, far away from the bright lights, star athletes and adoring fans, the tournament is being built on the backs of 1.6 million migrant workers. The Workers Cup is a feature-length documentary giving voice to the men who are laboring to build sport's grandest stage. The film follows a team of laborers from Nepal, India, Ghana and Kenya whose only common ground is their love for football. By day they sweat to build the World Cup; by night they compete in a "workers welfare" football tournament, playing in the same stadiums that will one day host the world's greatest players. Each match offers them a momentary escape from the homesickness and isolation they endure as the lowest class in the world's richest country.
More info on the film: http://www.theworkerscupfilm.com/
A Ciné ONU event hosted by UNRIC and Time For Equality.