No te pierdas la última proyección online de Cortadito el 29 de octubre en una tanda especial seguida de un Cine Foro.
About this event
Sigue la magia del cine con la Cine Gira 2020 del 11mo Festival de Cine Europeo de Puerto Rico. No te pierdas las cuatro películas de Cortadito: Competencia de Cortometrajes Puertorriqueños este próximo 29 de octubre en una tanda especial seguida de un Cine Foro presentado por la Prof. Mary Leonard de la Universidad de Puerto Rico en Mayagüez culminando la noche con una sesión de preguntas y respuestas con los cineastas de Cortadito. Ven a disfrutar junto a toda la familia de estos cuatro maravillosos cortometrajes puertorriqueños gratis y de manera digital.
Sinopsis
Cortadito: Competencia de Cortometrajes Puertorriqueños
Asterión - Un actor amateur con delirios de grandeza se lanza a una noche de excesos donde toda su vida puede cambiar ante la posible llegada del rol de sus sueños.
Eco - Ariel intentará mantener las riendas de su vida mientras se enfrenta a la inestabilidad de sus emociones, acompañado por un extraño Ojo que le ha salido en la espalda.
Mano Santa - Don Isidoro, mejor conocido como la "Mano santa" de su pueblo, refugia por unos días a su nieto Pablo, luego de que este se escapara de su hogar.
Segregatio - Tres personas que le sirven al Señor discuten durante un juego de briscas si vale la pena o no salvar al resto de la iglesia de la destrucción apocalíptica que está ocurriendo justo afuera.
Ficha técnica
Directorx: Stephanie Camacho, Gilberto Váquez, Alejandro Orengo, Jowy Santiago
Año: 2020
Genero: Drama
Para conocer más sobre la Cine Gira 2020, puedes visitar:
https://festivaldecineeuropeo.com/cine-gira/
Invita: Total Petroleum, UBS, Programa de Desarrollo de la Industria Cinematográfica de Puerto Rico. Traído a ustedes por la Fundación Ángel Ramos, Fundación Puertorriqueña de las Humanidades, National Endowment for the Humanities, Instituto de Cultura Puertorriqueño y el National Endowment for the Arts.
Inscríbete ya para este evento gratuito. Recibirás automáticamente un email con el enlace de reunión y otra información importante. Al no recibir el email, favor verificar tu buzón de Spam. Si aún no lo recibes, puedes escribir a: info@afpuertorico.org o festival@afpuertorico.org.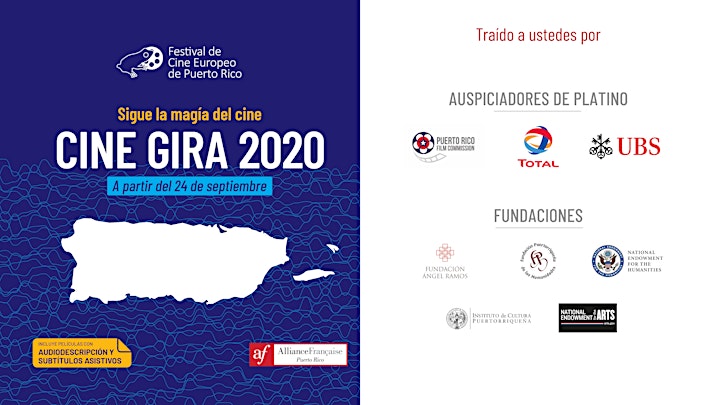 Organizer of Cine Gira 2020: Cortadito + Cine Foro