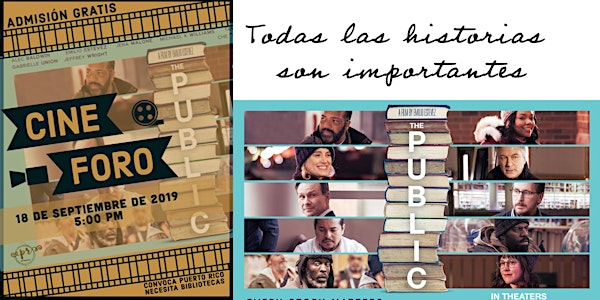 CINE FORO CON LA PELÍCULA THE PUBLIC
Producción de Emilio Estevez que gira en torno al tema de las bibliotecas públicas y el acceso a las mismas por parte grupos marginados.
When and where
Location
Centro Para Puerto Rico 1012 Calle González San Juan, Puerto Rico 00925 Puerto Rico
About this event
Puerto Rico Necesita Bibliotecas les invita al CINE-FORO sobre la película The Public este próximo miércoles 18 de septiembre de 2019 @ Biblioteca Centro para Puerto Rico, en la Fundación Sila M. Calderón.
Sinopsis: Una biblioteca pública de Cincinnati acaba convirtiéndose en un refugio improvisado por una noche para personas sintecho, enfermos mentales y otros colectivos marginados de la sociedad. La policía exigirá el desalojo de este centro, pero los funcionarios se enfrentarán a los agentes en favor de estos "refugiados".
La actividad estará moderada por la Dra. Ana I. Medina Hernandez y contará con distinguidos panelistas que discutirán sobre la cultura y el acceso a la información como un derecho humano, así como la perspectiva de dos bibliotecarias públicas de Puerto Rico: Dr. Efrén Rivera, Sra. Evelyn Torres y Sra. Azlyn Pérez.
Libre de Costo
Registro: https://www.eventbrite.com/e/cine-foro-the-public-tickets-7…
Lugar: Auditorio del Centro para Puerto Rico
1012 Calle González Urb. Santa Rita
San Juan, Puerto Rico 00925