About this Event
Cinderella's Princess Pumpkin Ball sponsored by Northeast Ohio Parent
Once Upon a Time VIP Party (1:15 - 2:15 pm) SOLD OUT!!!
Cinderella's Princess Pumpkin Ball (2:30 - 4:30 pm)
Join us for a magical afternoon at Cinderella's Princess Pumpkin Ball sponsored by Northeast Ohio Parent! Meet Cinderella, Prince Charming, and our entire cast of enchanting fairytale friends for an afternoon your little princess will never forget! Don't miss this magical day filled with special moments and perfect little touches.
This magical meet-and-greet event features:
Grand ballroom with over 16 magical characters
Princess Performances, including the Happily Ever After Show with Cinderella, Prince Charming, the Fairy Godmother, and the Evil Stepsisters
Enchanting photo ops for each princess including Belle's Enchanted Storybook, Cinderella's Magic Kingdom, and Sleeping Beauty's Wishing Well
Decorate a pumpkin from Cinderella's Pumpkin Patch
Visit Carriage Candy Buffet to choose delicious treats
Souvenir photo keepsake of you and your little princess
Cookies, cupcakes, tea party punch, and iced tea
Upgrade option to Once Upon a Time VIP Party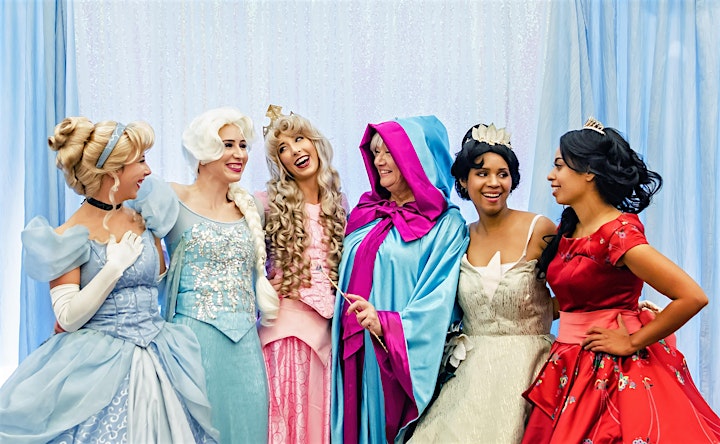 What can you expect at Cinderella's Princess Pumpkin Ball...
Inside every little girl is a princess! Make a grand entrance into Cinderella's magical ballroom where your little princess will sing and dance with her new fairytale friends.
Join our princesses from Spectacular Party Entertainment for an enchanting afternoon – our ballroom is filled with adorable photo ops your little girl will love! Share hugs, ask questions and take pictures in front of the Snow Queen's Snowflake Grove, the Little Mermaid's Undersea Throne, and Snow White's Magic Mirror. Our characters spend one-on-one time with your child and make her feel like the princess she is!
Then meet the Fairy Godmother on stage for a special Happily Ever After Show with Cinderella, Prince Charming, and the Evil Stepsisters! Enjoy fairytale performances from our princesses, including singing, dancing and story time. They have all sorts of magical surprises in store for you!
Snack on cupcakes, cookies and tea party punch while your little princess decorates pumpkins from Cinderella's Pumpkin Patch. And don't forget to visit the Carriage Candy Buffet, where each little girl fills a favor bag with her favorite sweet treats!
Our on-site photographer will capture special candid moments from the day, too, and photos will be made available after the event in an exclusive online album!
Spend your afternoon in Cinderella's Enchanting Ballroom! Our ballroom is professionally decorated by Party411 – we've brought high quality events to northeast Ohio for 20+ years. You'll never forget this fairytale day!A portion of your ticket goes to support The Littlest Heroes®, a local charity helping Northeast Ohio families fight pediatric cancer.
Once Upon a Time VIP Party (1:15 - 2:15)
Pamper your little princess before the ball begins! Spend a magical hour with Cinderella, the Little Mermaid, Sleeping Beauty, the Snow Queen, and Belle. At the Once Upon a Time VIP, each little princess receives a special Princess Pamper Box to decorate. Take your Pamper Box to the decorated boutique tables, and get ready for the ball with all the goodies inside! Then, design a sparkly necklace with Cinderella, and choose a sparkly glitter tattoo to match your gown. Before the ball begins, share a special storytime with Cinderella and enjoy an enchanting princess performance. We treat all our little princesses like the VIPs they are! VIP guests also enjoy first access to princesses at Cinderella's Princess Pumpkin Ball. A Child VIP Ticket includes admission to the Main Event (2:30-4:30). Adults accompanying a VIP Child DO NOT need a VIP ticket but will need an adult ticket for the Main Event.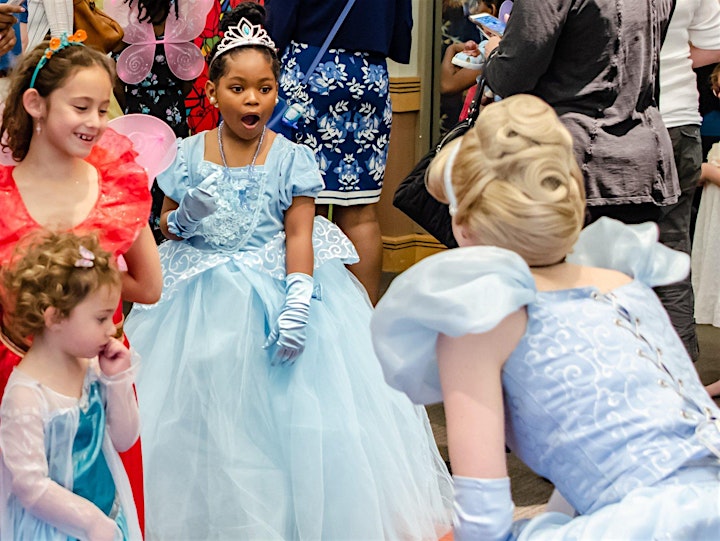 FAQS
Where is Cinderella's Princess Pumpkin Ball located?
Cleveland Marriott East, 26300 Harvard Rd, Warrensville Heights, Ohio 44122
Do adults need to buy tickets?
Yes, adults need to buy tickets. Just like a children's live performance, movie or concert, there is limited capacity and seating in our party space. We hope you enjoy the performance along with your little princess or prince!
Do I need to buy my baby a ticket?
Children 12 months and under are free to attend Cinderella's Princess Pumpkin Ball.
Do I need to purchase tickets through EventBrite?
EventBrite makes purchasing and printing tickets easy! However, if you would like an alternative way to purchase tickets, please contact Christine at christine@party411.com
What is the refund policy?Attendees can receive refunds up to 30 days before the event.
What ages are appropriate for this party?
This party is perfect for children ages 2-8+. However, we've had older friends and siblings attend our princess parties, and they've had a magical time!
Do I need to accompany my child?
All children must be accompanied by an adult.
Can my little girl or boy dress up?
Dress up is encouraged! Poofy gowns, sparkly tiaras, and princess accessories will make this a magical day. (And makes for some amazing pictures!)
How much does parking cost?
There is ample, free parking at the Cleveland Marriott East. Signage will direct you!
Where can I put our coats, bags, etc?
Coat racks are available for you to use just outside the ballroom. Please keep any valuables with you.
How does seating work?
In our large ballroom space, there is separate seating stations for crafts, refreshments and desserts, etc. Please don't leave any valuables at tables as guests will move from station to station.
Questions? Contact Miss Christine at christine@party411.com or 440-665-6561