Description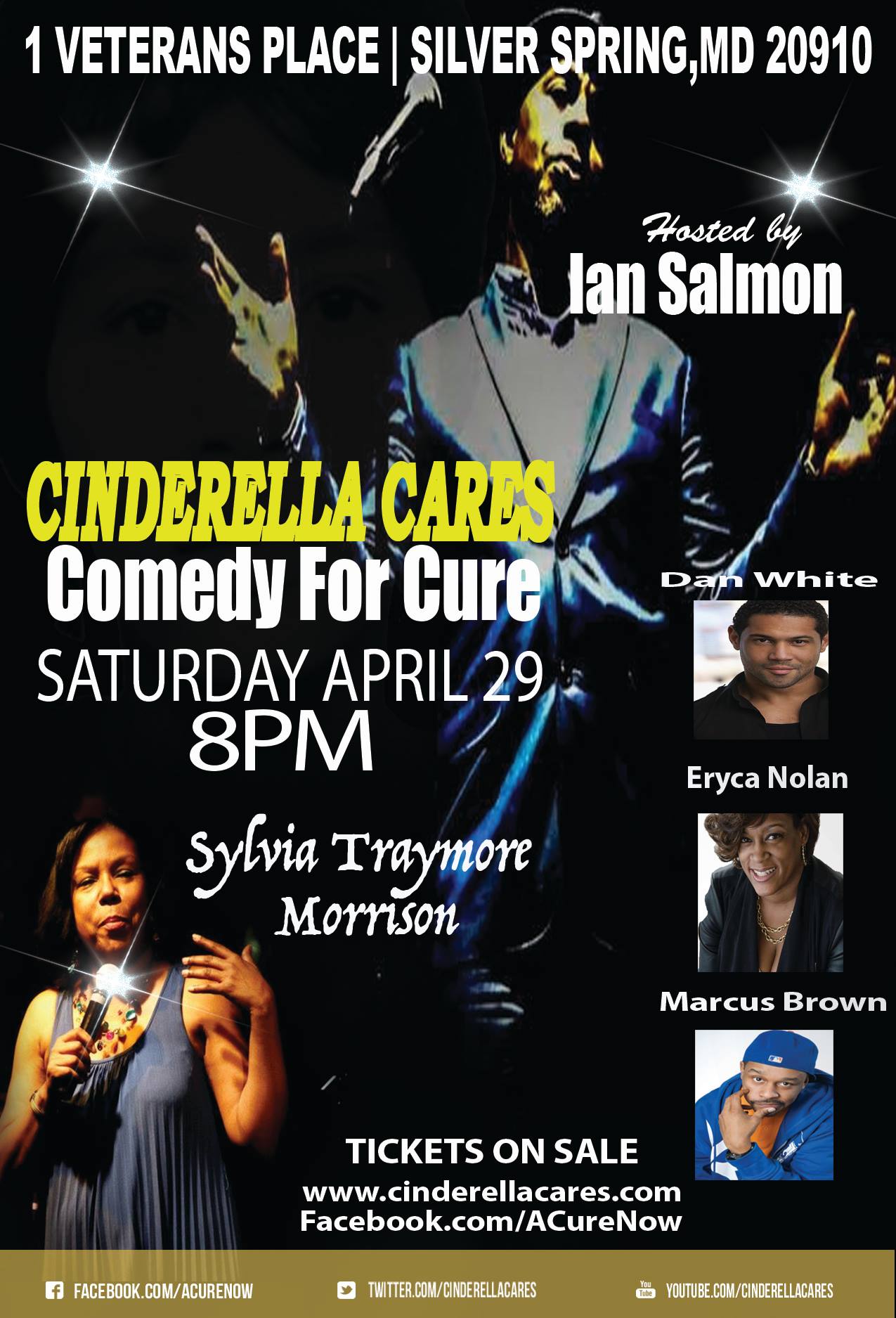 Cinderella Cares Annual Comedy for Cure in the fight against lung cancer supports Holy Cross Hospitals Early Diagnosis Free Low Dose Ct Scan and Lung Cancer Alliance Advocacy and Support for those living with and or at risk for lung cancer. Funds raised will help Holy Cross Hospital, Lung Cancer Alliance, and Cinderella Cares continued efforts in bringing awareness and help to those family in need that will reach out to said organizations.
Cinderella Cares is proud to present our 2017 comedians!


HEADLINER
Dr. Sylvia Traymore Morrison
Sylvia Traymore Morrison - America's first female impressionist and the first solo artist to tour & open for Whitney Houston! Her career is legendary as she was recognized by the iconic Redd Foxx who signed her to her first management deal. She has opened for big names like Gladys Knight, Chaka Khan, The Temptations, and Cher! She amazingly impersonates Wendy Williams, Diana Ross, Mo'Nique, Whoopi Goldberg, Nicki Minaj and First Lady Michelle Obama to name a few!

Also appearing Marcus Brown and Dan White.
MARTHA CAPONE BAND
Martha Capone - Guitar/Vocals
Martha started playing guitar at the age of 10 and hasn't looked back. She got her Strat at 15, and her Vibrolux amp at 16.

She has been playing in various bands in the DC & LA areas since then: rock bands, variety bands, oldies, blues bands, Elvis, original bands, even an all-girl country-punk band.

Martha started singing & then fronting her own band in the early 90s. Her band plays high-energy rock, and she loves to grab a song and make it her own.
Make no mistake - she is different & exciting and, boy, she can ROCK!!!!!
---
Tickets VIP $100.00 USD General $75.00 USD Donate $10.00 USD
VIP tickets include donation, entertainment, dinner, table service, gift bags, Champaign and a complimentary raffle ticket. (Only 50 available)

General Admission includes dinner, entertainment, and donation.