Description
TogetherDigital Cincinnati May OPEN Meetup: Ladder Up!
This meetup is OPEN to members, their friends, and those who are curious about TogetherDigital
NOTE: We don't hold open events often so make sure to gather the squad.
What to Expect:
Unsure what it means to be a member? Come to this event to learn what we are all about. You'll meet some amazing women and experience the strength of our Member Pledge in action as Alaina leads everyone in a powerful Ask + Give session and learn about How to Influence.
How to Influence Colleagues, Employees, and Customers During High-stakes Conversations
To lead, you must be able to influence others to think, speak, act, and feel differently. Influence is crucial when pursuing advancement, bringing about positive change and getting results from your team, your colleagues, your boss, and upper management.
You will learn:
• The Principles of Influence.
• The biggest mistakes leaders and others make when trying to influence others, and how to avoid them.
• A six-part planning process that gets the desired result in almost any influence conversation, in ways that actually strengthen your relationship.
• Seven different ways to influence others.
Featured Guests: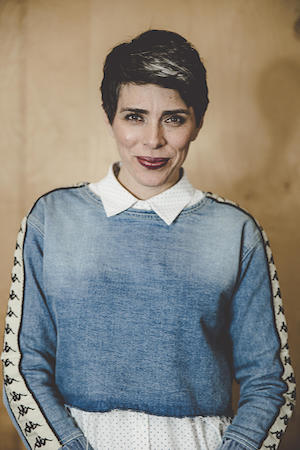 Alaina Shearer, Founder, TogetherDigital

Alaina Shearer is the Founder and Original Member of Women in Digital (now TogetherDigital), a groundbreaking 2K+ member association uniting women in digital creative professions behind one purpose – to empower each other through one another. (They trade their power through favors, called an Ask & Give Exchange). The group has grown almost entirely from word of mouth alone and has 23 cities nationwide. Watch her founding story here.

Andrea Dale, Executive Coach, To The Point Coaching LLC
Andrea Dale helps digital marketing and IT executives who are struggling to influence cross-functional peers, their boss and/or their teams. She helps clients improve their ability to obtain buy-in from upper management and peers, develop more robust and stronger relationships with key influencers and increase team engagement.
Agenda

7:30am - 8:00am: Check-in. Mix + Mingle. Enjoy coffee or a mimosa, with a light breakfast.
8:00am - 8:15am: Welcome, TogetherDigital National Updates with TogetherDigital Founder, Alaina Shearer
8:15am - 8:20am: TogetherDigital Cincinnati Updates with Cincinnati City Champion, Lucrecer Braxton
8:20am - 8:50am: Featured Guest with Q&A, Andrea Dale, Executive Coach, To The Point Coaching, LLC

8:50am - 9:00am: Refreshment Break
9:00am - 9:05am: Board Announcements

9:05am - 9:35am: Ask + Give Exchange. Members trade their power by asking for and giving support, advice, and favors.
9:35am - 10:00am: After asks + gives, open networking continues Stay after for an extended Ask/Give session and learn more about membership with Alaina!
Our mission:
Your digital talent makes you one of the most powerful women on the planet. Together, we join to share our knowledge, to inspire each other, and to be empowered by that strength. Our mission is to connect women in digital through engaging and educational events, and to enable them with the confidence and tools necessary to exchange their power. Learn more about TogetherDigital (formerly, Women in Digital) here.


Who should attend?
Female professionals in digital + tech industries. Our members have a digital focus within the creative, marketing, advertising, or communications fields. From content strategists to designers, developers to social marketing pros and CMOs – you are all professionals in digital and all welcome at our events. Not a member yet? Join us today!

We welcome all female, female-identifying, and LGBTQ persons.

Please do not attend if you have a sales motivation. Soliciting our attendees and members for business or sales is strictly prohibited. If you do so, you will kindly be asked to leave OR you can officially sponsor us (a better option).

Men, we prefer you not attend our member meetups. Why? By nature, when faced with challenges, women respond by creating community. This is ours. If you would like to support us, there are so many amazing ways:


Logistics
This month's meetup is located on the second floor of Union Hall in The Beer Hall. Check in with the front desk on the ground floor and they will point you in the right direction. Coffee and light breakfast provided.


Would you like to sponsor?
If you are interested in sponsoring an event, woo hoo! Contact us at cincy@TogetherInDigital.com or info@TogetherInDigital.com.
Thanks to our venue partner:
Located in Cincinnati's historic Over the Rhine, Union Hall is a 38,000 sq. ft. building where disruptors come to roll up their sleeves and get to work. Owned and operated by Cintrifuse, Union Hall is home to the Cintrifuse team, Brandery accelerator, and CincyTech investors, as well as hundreds of startup companies in our co-working spaces.