Description
DESCRIPTION
Across the world, today, millions languish in sexual slavery. They are more than statistics; they are individuals, with hopes and fears, dreams and doubts. Apart from someone stepping into their need, young women like Reshma will never be free.
We run to raise awareness of her need, to raise funds to secure her freedom through outreach programs, and to sustain her freedom through full time employment. When you run or walk in an Aruna Run, you run for a specific woman by name, like Reshma. You run for her freedom.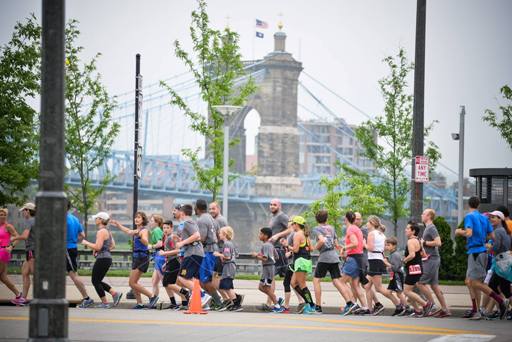 15 separate teams ran together as a single pack at the 2017 Aruna 5K, setting the Guinness Book World Recor for number of people tethered together while running a 5K.
What: Cincinnati Aruna Run 2018.
Why: Run or walk for a specific enslaved woman by name to help bring and sustain her freedom. You will select a specific woman whom we, our staff, and our partners know by name. You will receive email updates about her as you raise funds and run to set her free. Run for Khushboo. Run for Fathima. Run for Mamja. Run for so many others. Run for Their Freedom.
Impact: Because of our generous sponsors offsetting the cost of the event, 100% of the money raised from entry fees and donations will go directly to help free, empower, and employ the women we serve.
Events: New this year! We're offering a 5-mile, 3-mile, and 1-mile run/walk option. The 5-mile and 3-mile courses will be bridge runs, offering scenic downtown views as you travel along both the Ohio and Kentucky sides of the river.
Course Map: Coming Soon!
Times: 5-mile starts at 8:00 am, 3-mile starts at 8:30 am, and 1-mile starts at 9:30 am. Registration opens at 7:00 am.
After-Party: Join us for a celebratory thank you party after you cross the finish line! Experience the true beauty and generous nature of the Indian culture by enjoying a diverse mix of food and activities. More details to follow.
Giveaways: Each Aruna Run participant will receive a t-shirt, and an Athletic Drawstring Backpack made by women who are now freed, empowered, and employed! Each finisher will also receive a 2018 Aruna Run finisher medal.
Teams: Teams are welcomed and encouraged. Team formation will occur at the end of registration with the options to create or join a team.

Fundraising: Fundraising is completely optional but highly impactful as 100% of funds raised go directly towards the cause of freeing, empowering, and employing. If each 2018 Aruna Run participant raises $25, it can enable us to free, empower, and employ 25 women over the next year! You will be able to set up a personal or team fundraising page at the end of registration.
Awards: Following the finish, we will be celebrating funds raised by awarding an appreciation gift to the individual and team who raised the most money for freedom. As well, awards will be given to the top male and top female finishers in each of the three races along with the male and female age group category winners in each of the three races.
Donations: Donations can be made on the official Cincinnati Aruna Run 2018 Fundraising Page. You can choose to make a general event donation or donate specifically to an individual's or team's fundraising campaign.
Race Contact: For questions about the run, after-party, or volunteering, contact Kathryn Macke at kathryn.braun@gmail.com.
Sponsorship Contact: For information about becoming a race sponsor, contact Ryan Berg at rberg@arunaproject.com or 513-313-1343.
Refund Policy: No refunds.
---
FAQs
Are walkers welcome?
Of course! Whether walking or running, we are all out there for the same goal -- to raise funds to help bring freedom to the sexually enslaved.
Are there ID or minimum age requirements to enter the event?
Nope! As long you can cover the distance, we welcome all ages to participate. Parents are welcome to push kids in strollers too.
Can I update my registration information?
We all mistakes and things change. So yes, you can update your registration information.
Is my registration fee transferrable?
Unfortunately, no. But if you cannot join us for the race, we will still make every effort to ensure you get your race giveaway items. Contact April Berg at aberg@arunaproject.com to make arrangements to pick them up.
And the good news is 100% of your registration fee goes directly towards the cause of freeing, empowering, and employing enslaved women. So even if you can't join us, your money will still make an impact.
Is it ok if the name on my registration doesn't match the person who attends?
Unfortunately, no. We need all registrations to match the person who attends the race for timing and legal purposes.