Event Information
Refund Policy
Contact the organizer to request a refund.
Eventbrite's fee is nonrefundable.
CII'S 2021 TRAUMA-INFORMED CARE CONFERENCE SERIES: Community Level Trauma & Advancing Equity
About this Event
Trauma-Informed Care Conference Series 2021: Community Level Trauma & Advancing Equity
Plenary presenters for April's Trauma-Informed Care Conference Series: Community Level Trauma & Advancing Equity have been announced. On opening day, April 13, Anne Williams-Isom will speak on Community Approach to Trauma and Healing. On April 14, Professor Ibram X. Kendi will speak on Equity & Trauma: Disproportionate Response.
Panel sessions will follow the plenary sessions; panelists will be announced soon.
Times Daily (may vary slightly) ~9:30am - 12:30pm PST
KEYNOTE PRESENTER - APRIL 13 - ANNE WILLIAMS-ISOM
Anne Williams-Isom is a nonprofit executive and attorney with more than 25 years of leadership and management experience in large, complex organizations. Routinely sought after for her expert guidance on child welfare and community development, she has been featured in The New York Times, Daily News, Barron's, Crain's New York, The Economist, The Chronicle of Philanthropy, and Essence, and on several television programs.
Ms. Williams-Isom currently serves as the James R. Dumpson Chair in Child Welfare Studies at the Graduate School of Social Service at Fordham University. Previously, she was COO then CEO for the Harlem Children's Zone. She worked with NYPD in Brooklyn at the height of community policing in the 1980s, and at the NYC Administration for Children's Services after practicing law for five years at two of New York's most prestigious firms.
The recipient of numerous awards, Ms. Williams-Isom also serves on several boards. In October 2019 she was chosen as one of the "Nonprofit Power 100" by City & State magazine and one of the "The 2020 Education Power 100" in February 2020.
KEYNOTE PRESENTER - APRIL 14: PROFESSOR IBRAM X. KENDI
Professor Ibram X. Kendi is the Andrew W. Mellon Professor in the Humanities at Boston University, and the founding director of the BU Center for Antiracist Research. He is a contributing writer at The Atlantic and a CBS News racial justice contributor. Kendi is the 2020-2021 Frances B. Cashin Fellow at the Radcliffe Institute for Advanced Study at Harvard University.
He is the author of many books including Stamped from the Beginning: The Definitive History of Racist Ideas in America, which won the National Book Award for Nonfiction, making him the youngest ever winner of that award. He also authored three #1 New York Times bestsellers, How to Be an Antiracist; Stamped: Racism, Antiracism, and You, co-authored with Jason Reynolds; and Antiracist Baby, illustrated by Ashley Lukashevsky.
His newest books are Be Antiracist: A Journal for Awareness, Reflection, and Action; and Four Hundred Souls: A Community History of African America, co-edited with Keisha Blain, which will be out in February. In 2020, Time magazine named Kendi one of the 100 most influential people in the world.
How To Be An Antiracist by Ibram X. Kendi - can be purchased here
DAY 1 PANELISTS -
Dr. Debra Duardo, LA County Superintendent of Schools
Sarah Haight, Associate Director, Network& Outreach, Ascend at the Aspen Institute
Sondra Samuels, President & CEO, Northside Achievement Zone
DAY 2 PANELISTS -
Dr. Daryl Rowe, licensed psychologist and Professor Emeritus of Psychology, Pepperdine University
Dr. Rosemary Veniegas, Senior Program Officer for Health at the California Community Foundation
Rev. Dr. Starsky Wilson, President & CEO of the Children's Defense Fund
DAY 2 PROF. KENDI DISCUSSION FACILITATOR-
Nina Revoyr, Executive Director of Ballmer Group's philanthropic efforts in Los Angeles County and California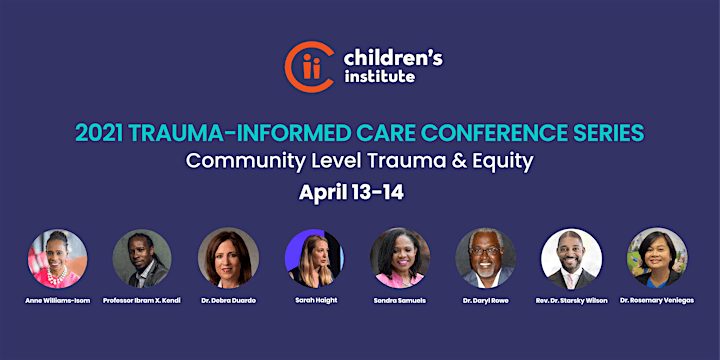 Who Should Attend: This conference is for child welfare workers, mental health professionals, school personnel, juvenile justice workers, policymakers and program administrators and organizational leaders from public and private agencies that work with at-risk children and families. 
LOGISTICS:
We are able to offer this reduced rate of $75 thanks to subsides from NCTSN. We hope this encourages broad participation in what will end up being critically important information for you and your staff to hear.
Cancellation/Refund Policy: By registering for this training the agency is liable for the registration fee, which is fully refundable up to April 2, 2021. Registration is transferrable prior to the start of the training. Once the training begins, fees are non-refundable/transferrable and no partial refunds will be given.
Please email AHapuarachy@childrensinstitute.org for questions to the below or needs.
For more information on Children's Institute, please visit www.childrensinstitute.org
For the Complaint/Grievance Procedure information, please go to:  https://www.childrensinstitute.org/professional-resources/  
This event is supported in part by a grant from the Substance Abuse and Mental Health Services Administration. Children's Institute is a grant within the NCTSN.  The views, opinions, and content of this conference are those of the authors and do not necessarily reflect the views, opinions, or policies of SAMHSA or HHS.



Location
Refund Policy
Contact the organizer to request a refund.
Eventbrite's fee is nonrefundable.