CIID: Drive Data and Design – the Virtuous Loop for the Connected Car
Description
A hands-on design thinking session for executives interested in leveraging drive data from to build new connected car experiences for customers and revenue models for their business.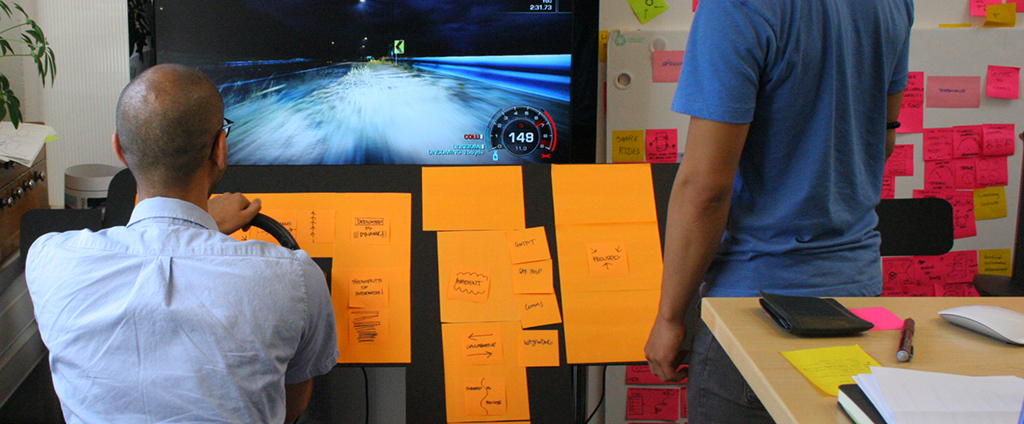 Connected cars are coming online at a fast pace. In Q1 of 2016, cars made up more net new adds to US cellular networks than phones or tablets. Worldwide, 27 million connected cars were on the road in 2016. Numbers are expected to quadruple by 2019, unlocking a massive amount of drive data.
The availability of so much data brings new players into the auto-mobility space, fundamentally changing the landscape. Wireless carriers, insurers, ride-sharing platforms, municipalities, and others capturing drive data now think about their business differently. More importantly, they see and are pursuing new opportunities to engage with customers, create innovative car ownership experiences, and build new revenue models.
What does this means for your customers? People have have come to expect seamless, even delightful experiences from the products and services they pay for, and most don't yet realize they pay upwards of US$8700/yr to own a car. New and existing players are well positioned to reduce those costs with products and services that improve our driving lives and unlock even more data.
The question is, where to start in this virtuous loop? For this session, we'll introduce design thinking as a tool for tackling ambiguity many leaders face and leverage it to prototype new mobility experiences enabled by data. We'll also explore emerging data monetization models and how data can be used to surface insights from or provide service and support to customers.

Participant profile & prerequisites
This workshop provides executives in charge of car telematics, insurance, or drive data monetization in their organization with hands-on design experience as primer for building human-centered services in their business, organization, and strategy.

Learning Expectations

Learn how design can create compelling car-ownership experiences that keep the data flowing and, in turn, enable better experiences. We'll step you through foundational skills involved in this unique approach:
Build empathy to surface customer needs

Reframe challenges as a generative point of view

Ideate, prototype, test and iterate your way to new solutions

Craft stories to build new dialog with customers and align teams

Establish a mindset of building to learn through prototyping

Create a blueprint for design and data monetization in your organization.
We'll step you through a series of focused presentations and mini exercises to give you the opportunity to learn by doing. In addition, this session will introduce emerging data monetization models that also support design innovation. You take away an initial framework on design and data to bring to your organization. No prerequisites required.

Suggested Reading
-Creative Confidence
-Change by Design

Schedule
DAY 1
OVERVIEW
- Meet and Greet
- Overview of Course

DATA MONETIZATION MODELS
- State of the art of data and auto insurance
- New data driven business models
- Future-casting new data feeds
- Data requirements draft 1
DATA & DESIGN
- The role of design in data

EMPATHY
- Methods of design research
- Compare/contrast to market research
- Field work prep
- "Field" observation - videos
- Identifying Insights

SYNTHESIS
- Methods of design strategy
- Identify themes & patterns
- Crafting a point of view
- Data requirements draft 2
- Art of collaboration and critique
IDEATION
- Getting to the questions
- Methods of idea generation
- Brainstorming
---
DAY 2
PROTOTYPING
- Methods of idea realization
- LoFi prototyping
- Testing and iteration
- Data Requirements draft 3
STORYTELLING
- Goals, metrics, influence
- Methods of storytelling
- Story prep
- Effective presentations

BLUEPRINT FOR BUSINESS
- Modeling data & design in your organization
- Data Requirements V1
- Group feedback

DRINKS & AWARDS CEREMONY

WRAP
---


Instructors
Steve Bishop

For the past 15 years, Steve Bishop has applied design thinking to tough challenges, unlocking growth potential for several businesses. He recently co-founded Posit, a new venture that creates digital mobility experiences for the transportation and insurance sectors.

Prior to Posit, Steve served as Head of Design, Partnerships at Automatic Labs, where he built connected car services that helped strategic partners innovate their business. He also spent 9 years at IDEO where he developed portfolios of work in the transportation and built environment spaces, creating new-to-the-world products and services. His portfolio includes award-winning automotive dashboard design, office furniture and medical injection devices (all for which he holds patents).

In addition to his own work, Steve has brought design thinking capabilities to several organizations, including government agencies, energy utilities, the US Navy, Fortune 100 companies, academic institutions, startups, and non-profits. He devotes much of his time to leading design teams and helping to internalize a design-led approach in the companies he works with.

After earning a graduate degree in product design from Stanford University, Steve returned as adjunct professor teaching design to Product Design undergrads. He also launched a course on graduate level course on Design for Sustainability and periodically teaches at the Hasso Plattner Institute of Design (the d.school).

Steve is an adviser to several companies, and frequently speaks at conferences and other events. His writing has been published in The Atlantic, Harvard Business Review, and Rotman magazines.
Geoff Werner
Geoff is the global leader for Willis Towers Watson's telematics-based insurance offerings. During Geoff's 27-year career in the insurance industry, he has specialized in personal lines pricing. Before joining Willis Towers Watson's team, Geoff was a managing director for EMB in North America and held a variety of positions at United Services Automobile Association (USAA) and GEICO. His positions at USAA included executive director of Actuarial Development, executive director of Property Pricing, executive director of Research, and director of Auto Pricing. Throughout his career, Geoff has been responsible for the creation and implementation of many initiatives related to pricing and product management, including:
Developing and managing the DriveAbility product to provide telematics scoring services for participating insurers

Implementing rating and tiering programs

Improving competitive measurement tools and completing comprehensive competitive analysis

Assisting companies with predictive modeling needs

Developing territorial ratemaking procedures

Analyzing impacts of legislative changes (tort reform, CA prop 103, etc.)

Improving management information systems

Reviewing pricing processes, recommending improvements and providing necessary training
Geoff is very active on industry and professional committees. In the past, he was the chair for the Examination Committee, the President and College Relations Officer for the Southwest Actuarial Forum (SWAF) and participated on the CAS Program Planning Committee. He co-authored the CAS "Basic Ratemaking" text, now the basis for the CAS ratemaking exam. In addition, Geoff also published "The US Postal Service's New Role: Territorial Ratemaking" (CAS Forum: Winter 1999), "Incorporation of Fixed Expenses" (CAS Forum: Winter 2004 and accepted by the CAS CORP for inclusion in Proceedings), and "GLM Basic Modeling: Avoiding Common Pitfalls" (CAS Forum: Winter 2007). Geoff regularly participates on panels at CAS conventions and seminars.


Contact
For any further information or inquiries, please write to education@ciid.dk

Find more workshops on the CIID Professional Programmes page.