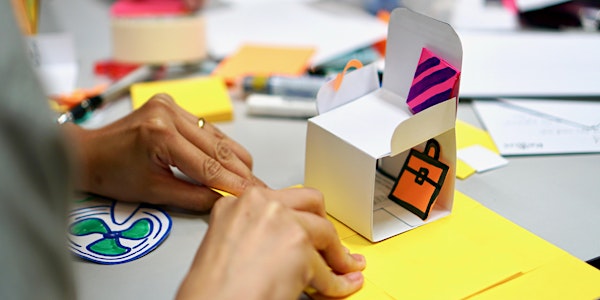 CIID: Design Thinking for Services (Copenhagen – April 2019)
Location
SAP
Lautrupsgade 11
Copenhagen
Denmark
Description
*Combine this workshop with the 2-day Service Design and Change Management course May 9-10 for a discount to both – select the package option at the ticket selection of either event*
This intensive 3-day workshop offers a deep-dive introduction to the concept and practice of design thinking for services, processes, and products. Understand why design thinking has become the go-to approach for innovation across industries, and learn how to apply it according to your own needs. You'll walk away with a complete toolkit for human-centered innovation and a certificate from CIID.
This hands-on course will guide you through the entire process, from understanding a stakeholder group to discovering a need to creating a solution to address it – whether it is a process, a service, a product, or an app.
During the three days you will do research, create insights, and prototype and test solutions. Along the way you'll learn practical tools to take back to your work, including research methods, synthesis approaches, user journey mapping, rapid ideation, and experience prototyping techniques.
By the end of day 3, you will be ready to apply this knowledge to your own work and become an ambassador of fast-paced change inside your organization.

Lectures are spread throughout the three days and are immediately followed by direct hands-on applications, research and prototyping in the field, and individual and group coaching along the way. We will work according to a rapid design thinking process that puts the user at the center to create actionable, business-ready experience prototypes.

Toolkit
Over the course of three days, we will introduce you to fast, effective, and broadly applicable tools and techniques for prototyping digital, physical, and hybrid service concepts. Our focus is on nuanced applications specific to CIID's design practice in Copenhagen with an emphasis on techniques for practical innovation, all applied through learning by doing.
Understanding

Intercept Interviews: Tips and techniques for spontaneous, in-context, field research.
In-depth Interviews: Templates and structures for gaining deep user insights.
Research Synthesis: How to make sense of field research through clustering techniques.
User Journey Mapping: Identifying pain points and highlights in an existing service.
Exploring

Insight generation: Techniques for distilling large amounts of data and complex information into actionable insights.
Opportunity finding: How to formulate designable questions from research-backed insights.
Rapid ideation: Tools for generating large quantities of ideas and refining them.
Testing

Concept mapping: Tools for developing rough ideas into a detailed and actionable concept.
Co-creation: A powerful way to get input and buy-in from end users by involving them in the design process directly.
Experience Prototyping: Techniques for creating and testing immersive prototypes ready for further development. Guidelines for iteration and optimal fidelity levels for rapid field testing.

This course is ideal for...
Anyone responsible for creating or delivering products and services, understanding customers and users and improving their experience, or managing such a process. Enthusiastic past participants have included professionals from product, marketing, HR, usability, front-end development, and designers of all kinds. The course is particularly suited for multidisciplinary project teams working towards a common goal, and we encourage teams to join as a group to acquire fluency in a new shared language and methodology.
We have trained participants from environments as diverse as Google, the New York Times, Singapore Airlines, Wolff Olins, and many others. This is an introductory course focusing on practical design processes in their entirety, but we welcome designers from any fields who wish to become more human-centered and holistic in their approach. Due to the small course size we are able to give a lot of individual attention and support to all participants and have time to go in-depth when needed.
Schedule

Day 1: Preparation & Research
AM: Introduction to design thinking; field research tools & techniques
PM: Field research in the city; download; user journey mapping
Day 2: Synthesis & Concepts
AM: Field research analysis, insights, opportunities
PM: Ideation, concept development, prototyping
Day 3: Testing & Takeaways
AM: Testing; advanced experience prototyping; iteration
PM: Introducing design thinking into your work environment; change management; team presentations

Instructors
Simon Herzog, Head of Professional Programmes, CIID
Simon teaches designers about business and businesspeople about design. He is passionate about working in fast-paced cross-disciplinary environments that enable radical change and impact. With a background in sociology from Columbia University, early-stage investing in New York's startup scene, and interaction and service design at CIID, he has worked in environments such as prisons, project buildings, and venture capital boardrooms. This hybrid experience between field work, design, and business makes him particularly attuned to creating strategic and financial viability through service design informed by real-world insights. Or, more simply: creating services that work, solve problems, and delight.
John Lynch, Senior Instructor
John is an interaction and service designer from and based in Dublin, Ireland. He graduated CIID in 2011 and has worked with CIID Consulting (Copenhagen), Future Cities Catapult (London) and Fjord/Accenture (Dublin). He now works independently and has founded Context Studio, a boutique design studio advocating, coaching and applying service design and interaction design for a range of clients. John works with design and technology, evoking the future possibilities that new technologies bring for people. In particular, he is passionate about cities, connected public services, and the kinds of service experiences that can exist across space and time using networked technologies.

Testimonials from previous courses
"CIID did an excellent job at creating a course that can be valuable to different levels of experience. We could take away everything from broad strokes to tips and individual techniques. I really enjoyed the examples shared, and the hands-on approach that helped us move quickly into prototyping was great. The instructors were very flexible and tailored the content to our needs."
– Senior Experience Designer, Wolff Olins
"The workshop pushed us out of our comfort zone and organizational norm, where we would spend a lot of time debating rather than trying things out. It helped us shift the mindset of our business units to start testing potential solutions earlier and cheaper, rather than waiting until right before implementation when any change would cost a hundred times more."
– Customer Experience Executive, Singapore Airlines
Cancellation and refund policy

Cancellations must be made in writing by email to education@ciid.dk. If you are unable to attend, a substitute delegate is welcome at no extra charge. Please provide the name and title of the substitute delegate at least 3 working days before the first day of the programme.
A full refund minus 10% administrative charge will be made for cancellation received 2 weeks (10 days) before the course. No refund will be made for cancellation after that.
"No shows" during event days are not considered cancellations. In this instance payment will not be returned.
Contact

education@ciid.dk
Find more workshops on the CIID Professional Programmes page.