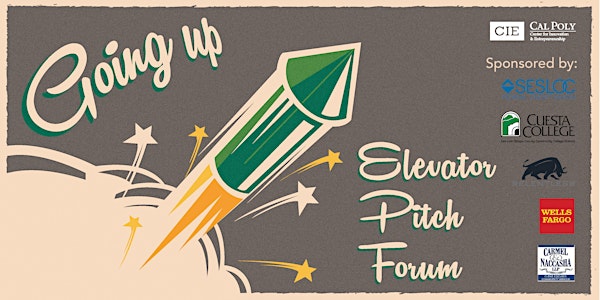 CIE's 9th Annual Elevator Pitch Competition Forum
Location
Performing Arts Center of San Luis Obispo
1 Grand Avenue
San Luis Obispo, CA 93405
Description
CIE's 9th Annual Elevator Pitch Competition Forum
Wednesday, November 7th, 2018
Registration begins at 4:30 pm in the Performing Arts Center, Main Lobby
Check the CIE Website for event updates
The Cal Poly Center for Innovation and Entrepreneurship will host the ninth annual Elevator Pitch Competition Forum, a fast-paced contest for Cal Poly and Cuesta College entrepreneurs, on Wednesday, Nov. 7, in the Performing Arts Center on the Cal Poly campus.
The forum — free, open to the public — will be held from 4:30 to 7:30 p.m. Students will have 90 seconds each to pitch their cutting-edge innovations and business ideas. Judges will select two winners; one from Cal Poly and another from Cuesta. Each winner will receive $1,000. The audience will pick an overall "audience choice" winner that will receive $500.
AJ Forsythe, the co-founder and CEO of iCracked, is the keynote speaker. He won the first annual Elevator Pitch Competition in 2010 with a proposal for an on-demand smartphone repair network. What was once a Cal Poly student-founded startup with Forsythe as its first iTech has evolved into a multimillion-dollar company with more than 70 employees. In the past eight years, iCracked has attracted some 5,000 iTechs who have performed nearly 774,000 repairs across the nation. Forsythe will discuss iCracked's transition from startup to success.
The Elevator Pitch Competition forum is sponsored by Cuesta College, Wells Fargo, SESLOC Federal Credit Union, the law firm of Carmel and Naccasha, and Relentless Management Group. Advance registration for the competition is required.
The winners of the competition will be revealed at the end of the night.
PIONEER PASS 2018/2019
As always, we're pleased to offer our Forums for free to the Cal Poly and San Luis Obispo community, but we need your financial support and help to ensure these unique and meaningful events continue for everyone. If you believe it's important to provide a place for students, educators, entrepreneurs and industry professionals to connect, be engaged and inspired – we need you to become a Pioneer!
Pioneer members will automatically be registered for all remaining Forums. Throughout the year, Pioneers will also be invited to special industry events, and gain special recognition.
For more information on this program, please email: ovanhoy@calpoly.edu