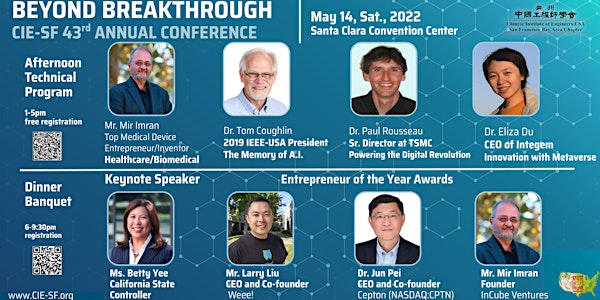 CIE-SF 2022 Annual Conference Dinner Banquet
Event Information
Location
Santa Clara Convention Center
5001 Great America Parkway
Santa Clara, CA 95054
Refund policy
Refunds up to 30 days before event
Eventbrite's fee is nonrefundable.
2022 marks the 43rd anniversary of CIE/USA San Francisco Bay Area Chapter! Afternoon Technical Session https://ciesf2022ac.eventbrite.com
About this event
Evening banquet (5:30 to 9:30 PM)
The dress code for the dinner banquet is business formal (men: dark suit, conservative tie, women: business suit or dress)
This delightful banquet features Keynote Speech, Entrepreneur of Year Awards, Student scholarship Awards, and more. It consists of special guests, corporate leaders, long-term partners in community, academic/universities, and old/new friends in the CIE network.
We are honored to have the California State Controller Ms. Betty Yee be our keynote Speaker in the evening. As the first Asian-American woman in California's history to serve as state controller, Controller Yee will share with us how she maneuvered through one of the greatest crises in centuries, and what the next steps are beyond the breakthrough.
The 2022 Entrepreneur of Year Awards go to three distinguished entrepreneurs in various categories and areas. They are:
Mir Imran of InCube Ventures
Mr. Larry Liu, CEO and Co-founder of Weee!
Dr. Jun Pei, CEO and Co-founder of Cepton (NASDAQ:CPTN)
More honorable awardees, special guests, and complete program schedule will be announced soon!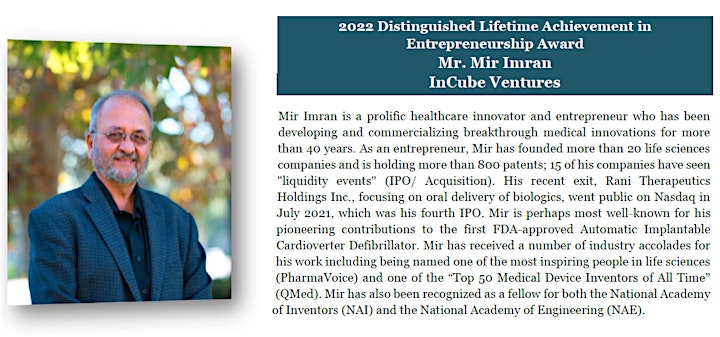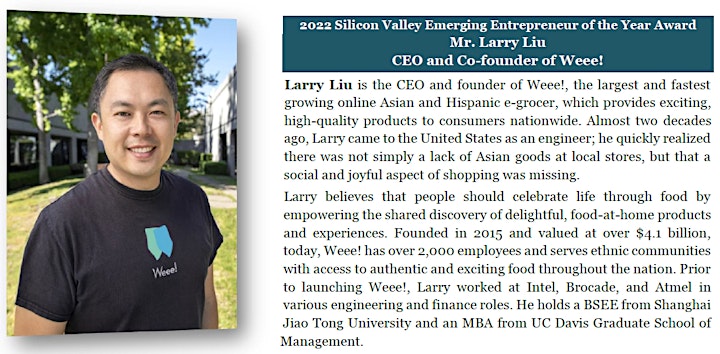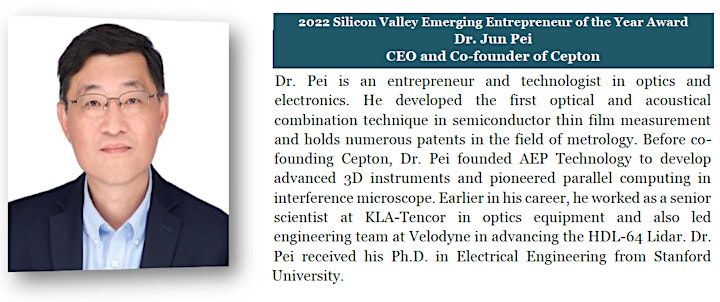 CIE/USA-SF 43rd Annual Conference Program Schedule (tentative)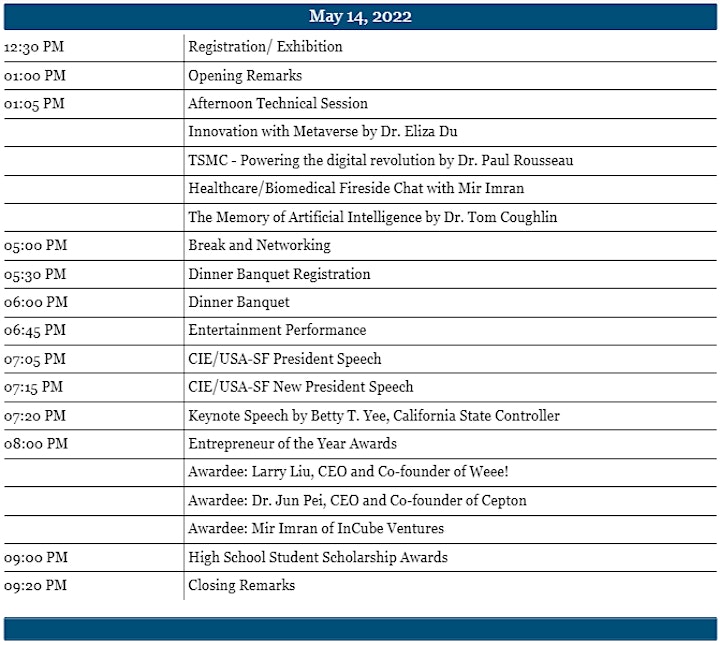 Event Venue: Santa Clara Convention Center, Mission Ballroom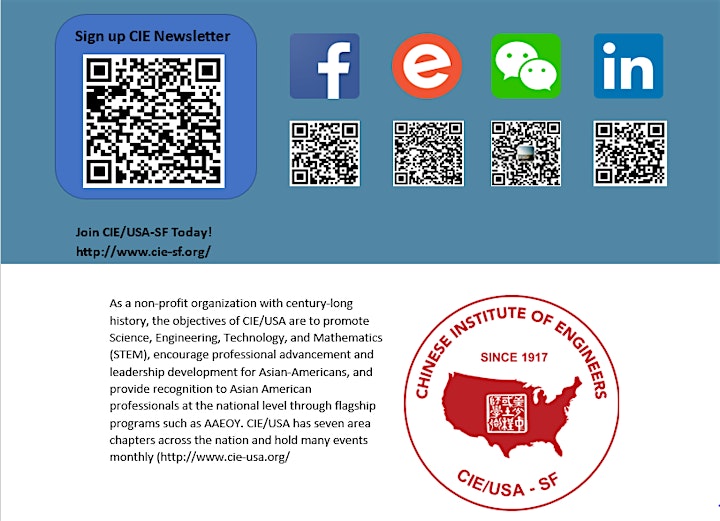 History of Chinese Institute of Engineers, USA
The first railroad project designed and managed by Chinese engineers was in 1905 when American educated Zhan Tian-You/Jeme Tien Yow 詹天佑 headed the building of Jing-Zhang railroad 京張鐵路 connecting Peking 北京 (now Beijing ) and Chang-Jar-Ko 張家口 (now Zhang-Jia-Kou).
Recognizing the need for engineers to help modernize China, more students were sent abroad to study science and engineering. In 1917, the Chinese Institute of Engineers (CIE – 中國工程師學會) was founded in New York by a group of able, dedicated and far-sighted Chinese engineers. These charter members were graduate students from American colleges and/or were receiving practical training in American railroads and industries.
Later on, the CIE merged with Chung-Hwa Engineers (中華工程師學會- founded in 1910 by Zhan Tian-You) in August 1931, at a joint engineering convention held in Nanjing. Afterwards, the headquarter was relocated to Nanjing. The post-merger enrollment reached 2,169 members.
The organization remained active during the World War II in Chongqing, re-established the convention in 1938, and formed chapters in Kunming, Chengdu, Guiyang, Lanzhou, Guilin and Chongqing. During the period of Japanese invasion of China, the engineers provided the needed technical services to the government for the defense of China.
In March 1950, the CIE-ROC was re-established in Taiwan. On the 50th anniversary in 1960 (adopted the founding date of Jan 1910 of the Chung-Hwa Engineers), its membership was more than 3000.
In July 1953, some members of CIE in the United States re-activated CIE-NY as an independent entity in the US . Together with CIE-ROC, CIE-NY co-founded the bi-annual Modern Engineering and Technology Seminar (METS) in 1966. This helped Taiwan in establishing the infrastructure for industrialization, promoting industrial research and development of advanced technologies. For example, it set up the stage for Taiwan's microelectronics miracle.
The CIE/USA National Council, established in 1986 by the Greater New York and San Francisco Bay Area Chapters as its founding chapters, became the federation organization of all Chapters of CIE in the US. In the years since, CIE/USA grows to 7 chapters around the country. In 1993, the CIE/USA established another bi-annual seminar series, SATEC (Sino-American Technology and Engineering Conference), with the People's Republic of China, with the same objectives as METS.
At the US national level, in conjunction with National E-week, CIE/USA has hosted the annual Asian American Engineering of the Year Award (AAEOY) since 2002. AAEOY creates a meaningful platform for recognizing outstanding Asian American professionals in the areas of Science, Technology, Engineering and Mathematics (STEM) and leadership. The awardees are nominated from corporations, academics, government, and renowned national institutions. Many of their achievements represent monumental breakthroughs in their respective fields and their impacts are global and everlasting.
Date and time
Location
Santa Clara Convention Center
5001 Great America Parkway
Santa Clara, CA 95054
Refund policy
Refunds up to 30 days before event
Eventbrite's fee is nonrefundable.