Join us for a virtual tutored-tasting special event with Austin Eastciders & Cabot Cheese—all shipped to your home! Serves 4+. Must be 21+.
About this Event
* The event is now SOLD OUT *
We're tasting cider, y'all…and cheese too! Refreshingly Texan, come join us for a virtual tutored-tasting of four varieties of sparking hard cider from Texas-based cider maker, Austin Eastciders. In addition to the 12-can cider variety pack you'll also be enjoying award-winning cheese from Cabot Creamery—all shipped directly to your home, serves 4 (or more) at a single location/log-in. This is an educational and entertaining night designed specifically for cider lovers. Must be 21+ to register.
Austin Eastciders launched on the east side of Austin, TX in 2013, with the goal of making America fall in love with cider all over again. Austin Eastciders crafts easy-drinking ciders using real fruit and nothing artificial. All of their refreshing ciders use a blend of heirloom bittersweet and American dessert apples for a crisp and more complex flavor profile with less sugar than most other commercial brands.
Join event host Matt Dinowitz from Austin Eastciders for a virtual tutored-tasting of four different ciders from the Austin Eastciders portfolio—learn about how their cider is made, the inspiration behind the ciders, how to pair cider with cheese and other foods, and what's coming next from Austin Eastciders.
The Austin Eastciders 12-can variety pack includes:
(3) 12 oz. cans: Original Dry: a crisp, smooth, dry craft cider made with heirloom bittersweet apples and American dessert apples.
(3) 12 oz. cans: Blood Orange: a zesty cider made with Moro blood oranges, heirloom bittersweet apples, and American dessert apples.
(3) 12 oz. cans: Pineapple: an exotic twist on cider blending heirloom bittersweet apples and golden, ripe, and delicious pineapples - a taste of the tropics!
(3) 12 oz. cans: Limited Seasonal Release
The snack sponsor, the award-winning Cabot Creamery, will send along their Vermont Seriously Sharp Cheddar Minis—a large bag of 24 individually wrapped snack-sized single serving bars that deliver big aged cheddar flavor and pair exceptionally well with cider.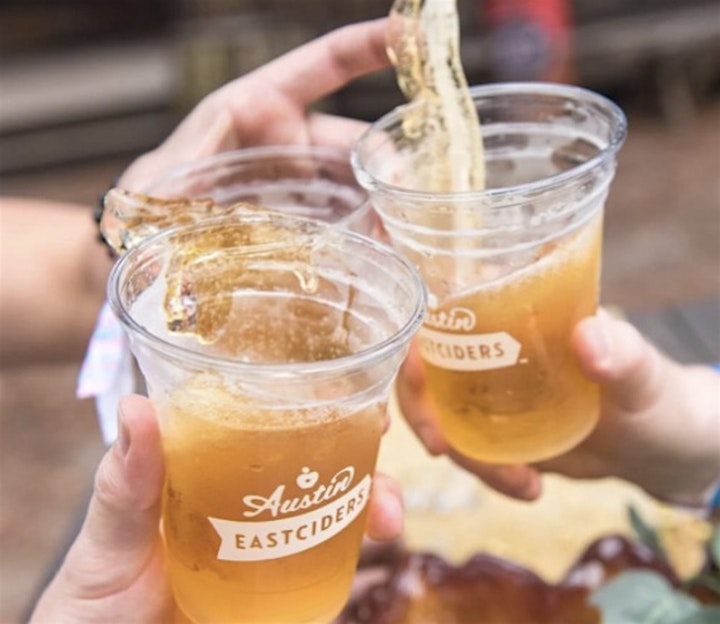 Each ticket ($49) is designed to be enjoyed by four (or more) participants, and includes the following:
(12) 12oz. cans of cider: four different flavors, three cans of each
o Original Dry
o Blood Orange
o Pineapple
o Limited Seasonal Release
(1) 18oz. bag of Seriously Sharp Cheddar Minis (24 snack-sized bars)
Access to the 1-hour virtual tutored tasting conducted via video conference
Direct shipping to the purchaser's home
Tickets are limited. If maximum capacity is reached prior to cut-off date (2/5/21), no additional reservations will be available. Buy now to guarantee participation and delivery.
Shipping is available to most states throughout the U.S. (except for AL, AR, CA, CT, DE, KY, MI, MS MT, NJ, RI, SD, UT). Ticket purchaser must be 21+ and show ID to sign for the package of cider. Please refer to the FAQs for additional information.
This tasting event is presented by Starfish Junction and sponsored by Austin Eastciders, and Cabot Creamery. Participants must be 21+.
FAQ:
What is included in the ticket price? Each ticket is designed to be enjoyed by four (or more) people and includes the cider, the cheese, access to the online event via video conference, and direct shipping to a single address.
Who can participate in this special event? All purchasers must be 21+ and show valid photo ID to accept delivery of the cider. Product can ship throughout the U.S. (except for AL, AR, CA, CT, DE, KY, MI, MS MT, NJ, RI, SD, UT).
How will the cider and cheese get to me? The cider will be shipped by VinoShipper to the mailing address provided at the time of purchase. Cider delivery must be signed for by someone 21+ with valid photo ID. The cheese will be shipped separately, directly from Cabot Creamery, via FedEx to the mailing address provided.
Do I need to be home to receive the cider? Yes. Since the cider contains alcohol, the package must be received by someone who can show their ID and sign that they are 21+. Packages will not be left at your door. Please make sure to provide a mailing address where someone over 21 will be home to receive the package; otherwise your package may be delayed or you may incur re-delivery fees. Neither Starfish Junction nor its sponsors/partners are responsible for delayed delivery.
When will I receive my cider and cheese? We will close ticket sales on February 5, 2021 at 5:00pm EST to ensure delivery to you on time. Your shipments of cider and cheese will arrive separately. Please refrigerate the cheese upon delivery.
How will you ensure the cider and cheese get to me in time? Shipping times vary. We are cutting off ticket sales with ample time to ensure each ticket purchaser receives their cider and cheese shipments before the online event.
What if I get the cider/cheese early? Please be sure to refrigerate the cheese upon receipt and chill the cider in advance of the event.
I can't make the online event. Can I still purchase a ticket and get the cider and cheese? Yes. If you can no longer attend the online event or simply are not interested in doing so, you can still purchase a ticket to receive the cider and cheese shipped directly to the mailing address provided. Please note that all sales are final and there are no discounts, refunds or exchanges should you not join the online event portion.
How many people can participate with a single ticket purchase? While this seminar's cider and cheese package serves four (or more) people, each ticket provides log-in access to one individual buyer and shipping to one physical address. All participants must be together to participate in the seminar to enjoy the cider and cheese.
How do I join the online event? Prior to the online event taking place, you will receive a number of emails reminding you of the date and time. Within these emails will also be a link to the Online Event Page which has the video conferencing link to join.
Can I ask questions during the online event? Yes! We encourage you to ask questions but please do so using the chat feature. This will ensure we avoid people talking over each other and all questions can be answered. The chat feature is typically located in the upper righthand corner of Google Meet.
How will you ensure the online event is a safe environment? The video conference should be attended by those who are 21+ only. We ask that all participants be polite and courteous. Starfish Junction and its sponsors/partners reserve the right to remove any participant from the video conference who is disruptive or behaving inappropriately with no opportunity for refund.
Do I need to download special software or an app to participate in the video conference? The online portion of the tasting will be conducted via the video conferencing platform, Google Meet. You should be able to click the link provided and access the video conference in any web browser from a desktop computer or laptop. However, you will need to give permission to the browser to use your camera and microphone. If you would like to access the video conference on a smart device (smartphone, tablet, etc.) you will need to download the Google Meet app to the device that you are using to access it. Note, in rare cases you may need to update your browser or computer. Be sure to test your accessibility a day or two before the online event.
Can I take part in the online event by phone only? Yes, a call-in phone number will be provided so you can attend via phone and participate with audio only.
What happens if I lose internet connection during the online event? If you lose internet connection and leave the video conference, simply click the link again to re-join. If the host loses internet connection, they will exit and rejoin. Please be patient.
Can you help me with my technical difficulties accessing the video conference? Yes, please email help@starfishjunction.com. It is important for you to try accessing the video conference before the day of the online event so we can fully assist you.
Do I need anything besides the cider, cheese and a computer to participate? The cider will be shipped in cans for easy consumption. You may also wish to have on hand:
o small glasses for cider tasting, four per participant
o plates and napkins
o water for palate cleansing between tastings
o fruit/crackers (optional)
Date and Time
Location
Refund Policy