Description
Learn how to automate your software delivery process using continuous integration and delivery (CI/CD) pipelines on AWS!
This course will give the knowledge and hands on experience necessary to use Amazon Web Services to move a serverless application from repository into the various release stages of a typical deployment pipeline under AWS using automation.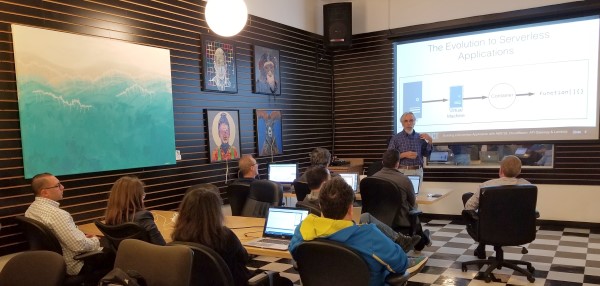 During this intensive one day session you will learn how to:
Move serverless application code from GitHub into a deployment pipeline that resides in Amazon Web Services

Use automation to create an AWS based API the uses the serverless application code

Use automation in the cloud to test serverless application code using CodeBuild

Use automation to deploy serverless application upon update in GitHub

Teaching is facilitated using Code District's, Look-Watch-Do methodology. Look-Watch-Do is a 3 step approach to teaching mission critical technical content in a hands on manner. First, the instructor presents a concept and implementation technique to be learned in a series of PowerPoint slides. Second, the instructor demonstrates in real time the concept and implementation technique just presented. Third, attendees take over and do the demonstrated procedures in an hands on manner, using the courses's step-by-step, Implementing a CI/CD Deployment Process Study Guide PDF. The Study Guide is provided to all attendees at the start of the course.
Prerequisites
This course is designed for programmers and DevOps personnel who have previous experience creating applications or experience supporting application deployment. Code examples will be in NodeJs. However, the concepts covered are applicable to any language that is supported by AWS Lambda.
Note: Attendees are required to have an AWS account. All code used in the course will be available on GitHub.
About the Instructor
Bob Reselman is an experienced, hands-on software architect involved in the architecture, design, and implementation of Microservices, AWS, service-oriented architectures, and distributed systems. He has been in the software industry for over 20 years and has significant experience and expertise in application, integration, and enterprise architecture.