Description
For a one-of-a-kind wine country experience, CIA at Copia is now offering an exclusive Chef's Tour of Napa Valley. Come enjoy the ultimate experience of life as a chef in the illustrious Napa Valley with The Culinary Institute of America as your expert guide. Here's your day: a CIA Chef will escort up to ten guests on a private tour through the Valley, introducing you to local vintners, producers, and farmers along the way, as well as sharing a unique perspective on the wine country culinary scene.
The tours explore the ways in which Napa Valley is tied together by food, wine, art, and the people who live there. Guests are whisked away on an eight-hour, curated adventure in a private classroom-on-wheels, with passed hors d'oeuvre and wine tastings provided. The tour will make three to four stops, including a private reception at CIA's historic Greystone location in Saint Helena.
Each tour has a different theme, so you'll want to come again and again! This tour focuses on agriculture, and includes a farm tour of Diamond Mountain with Douglas Hayes and his coveted heritage chickens.
Class Category: Tour & Experience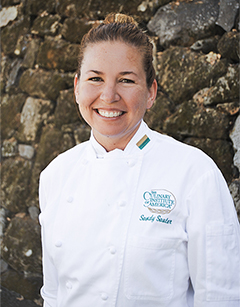 Your Chef: Chef Sandy Sauter, CHE, graduated at the top of her class at The California Culinary Academy in San Francisco in 2006. Chef Sandy has lived in the Napa Valley for ten years. She began her career in the Napa Valley in Yountville at Thomas Keller's French bistro, Bouchon. She continued to hone her skills by holding roles in various aspects of the food industry, including chef at a Napa Valley bed & breakfast, Executive Chef at Dean & Deluca, and as an instructor at Copia: The American Center for Wine, Food, and the Arts. While at Copia, she discovered her love for teaching, and now brings that passion to The Culinary Institute of America, where she performs public chef demonstrations, instructs Boot Camps, and hosts CIA Skills classes for food enthusiasts from across the country.
Additional dates:
Thursday, July 6, 2017
Thursday, August 24, 2017