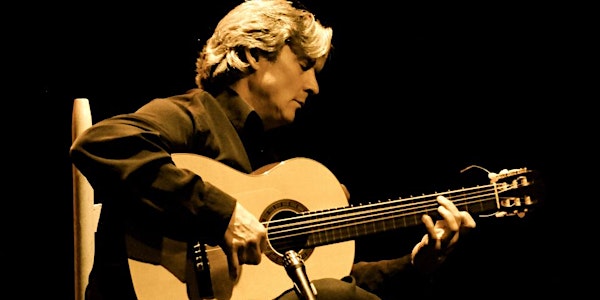 Chuscales- Spanish Flamenco
Ages 21+
Duet Jazz & OK Roots Music
Tulsa's Wine, Jazz, and World FETE is proud to present Chuscales!
When and where
Location
LowDown 108 N Detroit Ave Tulsa, OK 74103
About this event
Tulsa's Wine, Jazz & World FETE is proud to present one of the most accomplished and captivating flamenco guitarists in the world. Chuscales has performed around the globe, including appearances at Lincoln Center, Telluride Jazz Festival, the National Hispanic Cultural Center, and the Santa Fe Jazz & International Music Festival. He was musical director and principal guitarist for the presitgious Maria Benitez Teatro Flamenco for nearly two decades and he is the recipient of top honors including multiple Dora More Awards for outstanding sound design/composition and Isadora Duncan Awards for composition, arrangement, and direction. For Tulsa FETE performance, Chuscales will be accompanied by his troupe (guitar, dancer, singer and cajon), featuring dancer Mina Fajardo.
Jose Valle Fajardo "Chuscales" grew up in a traditional gypsy family of musicians and dancers in Antequera, Spain. His grandmother lived in the caves of Sacromonte, one of the legendary cradles of flamenco. Chuscales recalls, "there were shows with Gypsies from Granada who grew up in the caves…. There might be seven, eight, maybe nine caves, all with singing and dancing, and there would be more singing and dancing on the streets every day. It was unbelievable. It was very formative time in all my life, like a dream. This is where I learned everything—the rhythm, the beat, the guitar. I am still learning from those thousands of nights performing with my family and my friends."
Chuscales began guitar lessons at age six under the instruction of his uncle Joaquín Fajardo and maestro Agustinillo. As a teen, Chuscales found himself frequently in the company of the late flamenco great Paco de Lucía, who took a shine to the talented youngster. Meanwhile, he began his performing career as a dancer, a lesson in rhythmic nuances that would deeply inform his guitar playing."I can understand and follow dancers. I can see where they are going before they take their next step. I know what the dancer is looking for, how much tension is in the music, the right rhythm, when to play strong or soft so if a dancer asks me for something, I know what they ask."