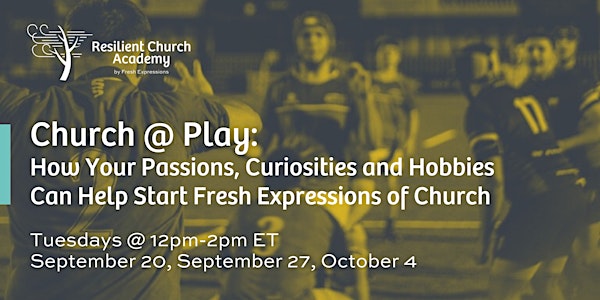 Church @ Play
How Your Passions, Curiosities and Hobbies Can Help Start Fresh Expressions of Church
Refund Policy
Contact the organizer to request a refund.
Eventbrite's fee is nonrefundable.
About this event
What does your neighborhood and your congregation have in common? Both are full of people who dedicate tremendous energy to passions and hobbies. In this Resilient Church Academy track, you will learn a process for helping people reimagine the fun activities they do in their free time as a starting point for launching a Fresh Expression of Church.
DETAILS
Tuesdays from 12pm-2pm Eastern
Sept 20 / 27 / Oct 4
Presenters: Mitch Marcello
SESSIONS
Sept 20 - Session 1: Understanding Play
We define play as, "A way to connect with your being by doing". In this session, we'll talk about what play is, why it's important to God, and look at examples of Christian communities where play exists in powerful ways.
Sept 27 - Session 2: Getting the Ball Rolling
With the foundation set, we'll start to look at our personal lives and our communities to see ways this could begin to grow in your context. We'll cover practical do's and don'ts, explore common barriers, and get the ball rolling on your church @ play.
Oct 4 - Session 3: Discipleship and Worship
Finding meaningful ways to explore discipleship and worship can be difficult, especially when building a community in a different place. This session will be dedicated to learning about how we can be intentional about discipleship and worship in new spaces.
Mitch Marcello is the Director of the Acts Network, a collection of fresh expressions of faith connected with the local church. He works with leaders to explore faith expressions, create meaningful communities and grow personal understanding about what it means to be a disciple in a rapidly changing culture. After spending five years working with the CCO (Coalition for Christian Outreach) doing college ministry and community outreach, Mitchell sees the importance of contextualizing ministry, and knows connecting pioneering ministries with the traditional church is vital to the Gospel being spread. It is not about being the newest form of ministry, but about doing what is needed to make the Gospel "news" again. Mitchell works at First United Methodist Church in Williamsport, PA, has helped start eleven faith communities and is in the process of launching fresh expressions of worship throughout Williamsport. Mitchell holds a Bachelors of Fine Arts and an Artist Diploma from Carnegie Mellon University.