Description
Church officers training is an adults only training event for individuals who are leading or aspire to lead in the following ministries:
Local Elders
Treasury
Deacons/Deaconesses
Church Clerks
Sabbath School
Family Ministries
Health Ministries
Youth Ministries
Community Services
Personal Ministries
Stewardship
Women's Ministries
Public Affairs & Religious Liberty (PARL)
Singles Ministries
Ushers
Education/School Boards
Registration
Registration is required in order to access all training and meetings. There are two types of registrations--with and without meals. Choosing meals will require that you present a meal ticket at the cafeteria. Meal tickets will be available for pickup at the check-in desk during on-site office hours.
Lodging
Shared rooms are provided on the campground dormitory style by gender. Space is limited. Alternate arrangements can be made directly with the area hotels.
Schedule
The event will begin with Evening Worship from 6:30-7:30 p.m. on Friday, followed by a Plenary Session from 7:30-8:00 p.m.

The event will continue on Sabbath morning with Worship from 9:00-10:00 a.m., followed by breakout sessions from 10:15 a.m.-5:30 p.m. The Sabbath will close with Plenary Sessions and Vespers from 5:45-7:00 p.m.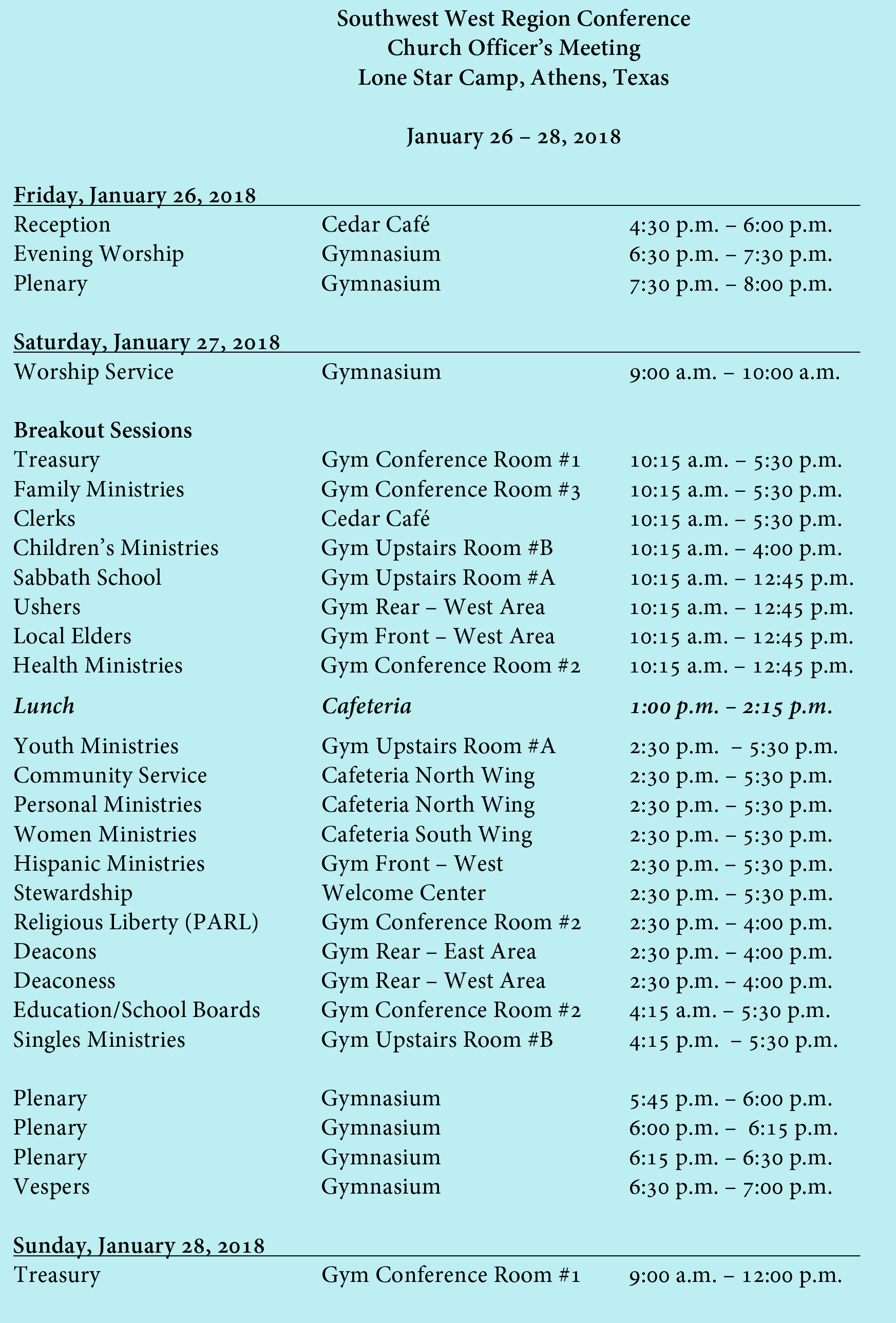 To see a larger version of the above schedule, right-click on image and select "Open Image in New Tab." You may then zoom, save, or print.
This training is provided by Southwest Region Conference of Seventh-day Adventists. For more information call 214-943-4491.