Description
Featuring Sonny Fuller, Hedi Sandberg, and Jim Bryan!
Doors Open at 7PM
Ages 21+


Give your Valentine to gift of laughter this year with tickets to this very special event! The Church of Satire comes to Hagerstown with three budding comics that have proven themselves more than worthy of gracing our stage. Visit the Church of Satire Facebook Page here, or scroll down for links to clips from the night's performers!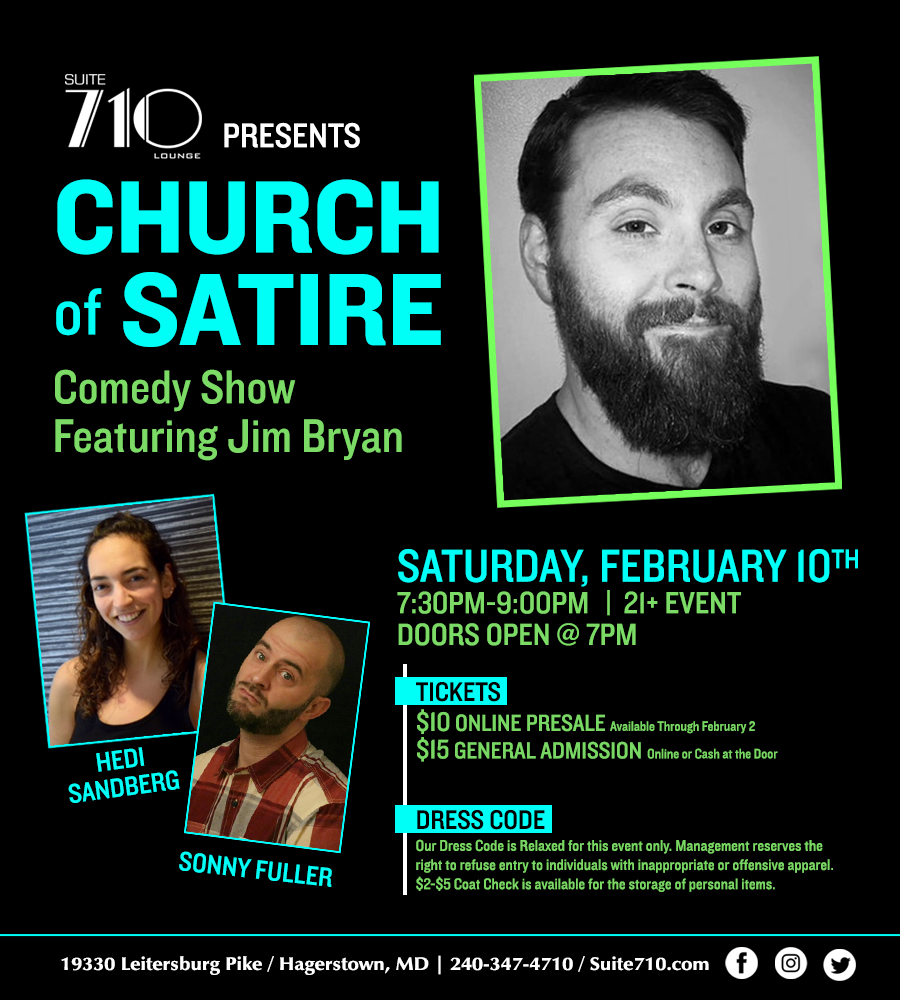 Presenting Jim Bryan!
Jim started his comedy journey back in 2002 in Long Island, NY. He frequented clubs in NYC and has performed at Gotham Comedy Club, Greenwich Comedy Club, and Caroline's on Broadway to name a few. He moved to Las Vegas shortly after and while working the circuit and performing at shows all over town in places like Planet Hollywood…he met a lovely vacationing from central Pennsylvania one night on the town and moved to the country to raise a family. Jim enjoyed a successful career as a healthcare executive, is a published author, motivational speaker, and has presented keynote speeches at conferences. Comedy never left his heart and as a result he founded the increasingly popular Church of Satire Comedy Show which showcases talented comedians from all over the PA/DC/MD/VA area for six shows a month in Hanover, PA and at other venues whenever they call for entertainment. Happy at home spending time with his wife and 5 children on their small farm, Jim still performs shows throughout the region and delivers a unique brand of comedy deeply rooted in story telling from his winding road to the present and his life as a father of a menagerie of small children. Click here to listen to Jim's sage (and shocking!) advice on fatherhood and the "miracle" of childbirth!
"The Legend" Sonny Fuller
Comedian, podcast host, and lovable jerk, Sonny "The Legend" Fuller has quickly taken the comedy world by storm. Described as a young Clint Eastwood with the swag of the Fonz, Sonny brings unabashed confidence to the stage. Sonny's raw, in-your-face, and uniquely playful style has led him to headline in comedy clubs along the coast for crowds of every type. He is the creator and host of one of the most popular comedy podcasts, "Intoxicated Hate," and recently taped his upcoming comedy special to be released in 2018.
Click here to get a sneak preview of "The Legend" Sonny Fuller, opening for the Church of Satire Comedy Show on February 10th!
Hedi Sandberg
Hedi is a D.C.-based comedian, performing Stand Up at various open mics, showcases and competitions. She was part of the Lady Laughs Comedy festival in Madison, Wisconsin and has been making her comedy trek along the East Coast from Richmond, VA all the way to Massachusetts. Hedi is one of the hosts at The Pinch open mic and is a House Comic for the Laugh Index Theatre. Performing stand up gives Hedi purpose and energy; she finds the main source of her nonsexual pleasure comes from making other people laugh. She hopes to share this joy with the world through her unique style of deadpan humor, sarcasm and quick wit. When Hedi is not out and about telling jokes she can be found in bed eating pints of vegan ice cream while watching videos of cakes being decorated.
Click here to get a sneak preview of Hedi Sandberg, performing with the Church of Satire Comedy Show on February 10th!
THE KITCHEN is open until 11PM. After the show, guests are welcome to join us next door for bowling, billiards, and arcade gaming until 2AM. Full Bar available.
OUR DRESS CODE is Relaxed for this event only. Management reserves the right to refuse entry to individuals with inappropriate or offensive apparel. $2.00-$5.00 Coat check is available for the storage of personal items.
The following apparel is considered inappropriate for this venue
Bandanas and Hoodies
Shorts, Jerseys, Sweatbands
Ripped, Torn, or Frayed Clothing
Work Boots and Flip-Flops
Affiliation Colors
Baggy, Revealing, or Otherwise Ill-Fitting Clothes
Duffel bags, backpacks, purses, and all other bags are subject to search and storage.
NOTICE: Door Staff is trained to conduct searches and seizures, utilize wand-style metal detectors, and exercise random ID checks.