Church Mentoring - Session 5 (Evangelism) in DFW South - A series of church mentoring sessions for pastors and their vision teams.
About this Event
Session 5 Content:
Theme: Evangelism
Imagine Video Course: Imagine Restoring Community - One Relationship at a Time
Schedule:
Pastor Training - Friday, July 10, 2020 - 9:30am - 3:30pm
Pastor & Participants Training - Saturday, July 11, 2020 - 9:30am - 3:30pm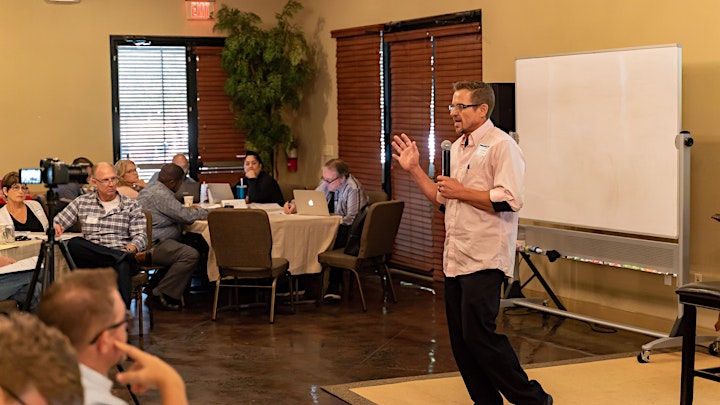 What is this Church Mentoring Journey and why should I care?
This initiative is a 12-18 month journey for churches to assess and grow in their current realities of health, connectedness, outreach, and missional engagement. All of us would probably answer "yes" to the question, "Do you want your church to be more:
Relationally connected on a foundation of love and trust?
Valued and respected by the local community? In other words, would the community even notice if your church closed down?
Welcoming and safe for non-believers to take steps towards Jesus?
Member-driven in serving others, living missionally, and extending the culture of the church to new members?
These are hard questions to answer, but we believe they are critical to address if we want to see faith passed onto the next generation and establish churches that last!
What is this Church Mentoring Journey built on?
The content for this initiative takes the relational message, Called 2 Love, of the Great Commandment Network, and pairs it with the practical strategies and framework of the Acts 2 Journey.
Churches will experience a relational message through 12 key Bible passages that will help reshape the methods and strategies used to engage in the mission of Christ. The 5 areas this journey focuses on is:
Fellowship (Session 1)
Discipleship (Session 2)
Worship (Session 3)
Ministry and Serving (Session 4)
Evangelism (Session 5)
This Church Mentoring Journey will help every church go to their next levels in those 5 areas.
How is this Church Mentoring Journey executed?
Over the course of 12-18 months, churches will gather together for 5 sessions to work through this journey's material. One of the unique aspects of this journey is the priority placed on pastors and leaders to "get out in front" of their leaders and congregation for implementing these fresh perspectives. Pastor Trainings happen before each session so that pastors are adequate and prepared to lead the discussions and experiences with their leadership team and church participants. So, an example might look like:
Session 1 (Fellowship):
Pastor Training - XYZ date
Pastor & Participants Training - XYZ date (different day than pastor training)
At each session, pastors will want to strategically think through which team members should attend the training depending on the topic. For example, session 3 covers the topic of Worship. Pastors may want to ensure the worship pastor or other worship team members participate.
Church Mentoring Journey Cost:
Churches will pay $250 at each of the 5 sessions ($1,250 total) for their "church registration fee". This registration comes with two tickets. Ideally, these two people are the pastor and one other key leader or spouse. This registration includes lunch both days, as well as training materials for those two individuals.
Churches may send additional participants to the Pastor Training day or the Pastor & Participant Training day for an additional $15 per person. This $15 per person payment helps cover the food and materials cost for each additional attendee.
For more information about this Called 2 Love through the Acts 2 Journey Church Mentoring Journey, visit our website at: https://www.greatcommandment.net/called2love