CHURCH LEADERS UnConference
Description
Leading is hard! Let's figure it out together!
Church Leaders unConference
March 17, 2018 9am - 3pm
at Park Hill Christian Church
4400 JFK Boulevard, North Little Rock, AR 72116
Pastors, Ministers, church planters, administrators, boards, elders, youth leaders, deacons, lay leaders - all are welcome!
Registration fee (includes lunch): $10/person
If you need overnight accommodations, there is a block of rooms reserved at the LaQuinta Inn & Suites, North Little Rock - McCain Mall, located at 4311 Warden Road in North Little Rock, phone 501-945-0808
Join the Great River Region of the Christian Church (DOC) for a day of collaboration and networking with church leaders and co-laborers in ministry. Discussions include, but are not limited to, church growth and revitalization, church planting, community outreach, facility management, justice, or bring your own topic!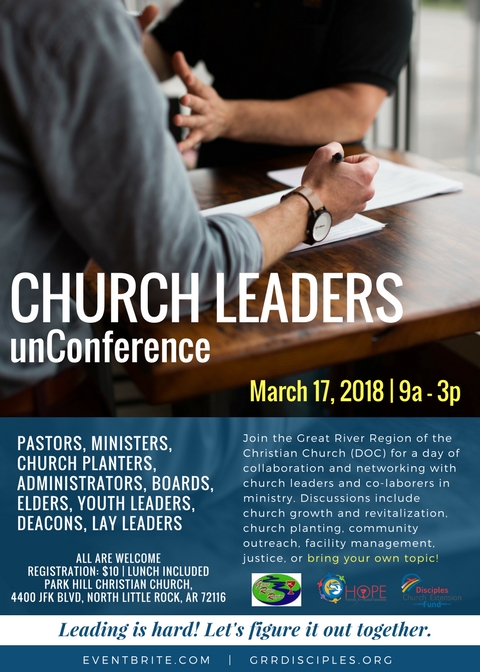 Keynote Speaker: Rev. Dr. Stacy Spencer, New Direction Christian Church, Memphis, TN