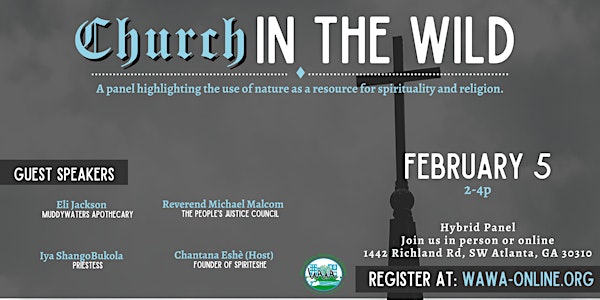 "Church in the Wild" Panel Discussion
The Church in the Wild Panel Discussion will expound on a few of many nature-based practices in certain African diasporic beliefs.
When and where
Location
Outdoor Activity Center 1442 Richland Road, SW Atlanta, GA 30310
About this event
79% of African Americans identify as Christian. In the Christian faith, when one decides to profess their faith in the religion, they are baptized. Upon baptism, they are dipped into a body of water representing the cleansing of their souls, much like their Savior, Jesus Christ as he was baptized in the Jordan River. In the same fashion, many baptisms for centuries, particularly in Black culture, were conducted in natural bodies of water.
In many religions/ spiritual practices, water, herbs, and other natural elements all serve some representative purpose. The Church in the Wild Panel Discussion will expound on a few of the many nature-based practices in certain African diasporic beliefs.
Through this program we hope to:
Broaden the understanding of certain spiritual practices such as Hoodoo, Yoruba, Christianity, etc.
Understand the cultural and spiritual value behind certain elements such as water, fire & Earth.
Acknowledge the African influence in most modern Black religions/
Trace specific religious nuances back to their origin
About the Panel
Elizabeth "Eli" Jackson
Elizabeth "Eli" Jackson (Pronouns They | she) was raised in the Black church and left as soon they had a choice. She searched for the sense of community and belonging that church gave her for years. Like most people who eventually stumble or intentionally choose Hoodoo it was a long journey. So they did what most people do when they first begin a spiritual journey; use google and wing it.
It wasn't until 2015 that they realized they were practicing Hoodoo and in October 2019 once they got the tools they needed to practice in a more traditional way. As they begin to grow and expand in their practices they took a tarot reading class and began to include bibliomancy into their divination as a nod to their ancestors and being raised in the church.
In March 2021, they opened up Muddy Waters Apothecary to teach and give guidance to other Black folks trying to learn more about their heritage and guide their spiritual journey on the right path. Living by the motto "All power to the people" giving Black people the tools they need is a sheer act of revolution.
Reverend Michael Malcom
The Reverend Michael Malcom is the Executive Director of Alabama Interfaith Power and Light and a licensed and ordained United Church of Christ Minister. Rev Malcom is the former Senior Pastor of Rush Memorial Congregational UCC in Atlanta, GA. He is the founder of The People's Justice Council which is a 501(c)3 non-profit focusing on environmental justice. Rev Malcom serves as the Environmental Justice Minister for the Southeast Conference of the United Church of Christ. He is currently the co-chair of the Building Power from the Grassroots Action Team with US Climate Action Network, co-facilitator for the International Solidarity Working Group with the National Black Environmental Justice Network, co-chair of the Climate Impacts Working Group with the Kitchen, and a board member for the Southeast Climate and Energy Network.
Iya ShangoBukola
Bio coming soon!
Chantana Eshè (Host)
Chantana Eshè is a southern roots Storyteller, Educator, Interpretive Dancer, and Meditation Facilitator. With over 19 years of experience, Chantana Eshè is known for expressions that encompass prayers and ancestral reverence that hugs the soul.
Chantana Eshè is the founder of Spirit Eshè Goods, an intuitive botanica that supports transformative healing for the mind, body, and spirit. She is also the founder of the Living Room Manifestation Workshop Series, the Birthing Wholeness 21-Day challenge, and cofounder of the Cultivate You rites of passage program. An advocate of all things natural and ancestral, her mission is to guide the collective to honor their history, tell their stories, and create a vibrant life that aligns with their Soul.
Contact
Chantana Eshè
IG: chantana.eshe
FB: Eshè Chantana
Website: https://spiriteshegoods.com/
Email: eshechantana@gmail.com