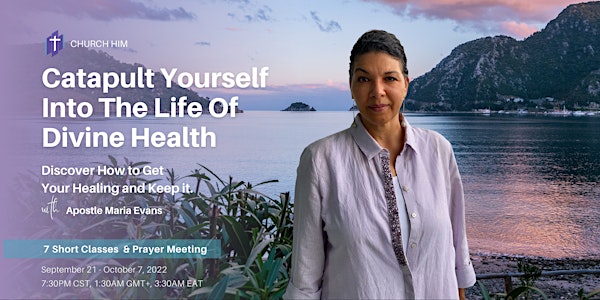 Church HIM Healing Conference
Good health is God's Will for you, not a life of sickness. Discover how to get your healing and keep it from being taken by the enemy.
About this event
Living in good health is God's Will for your life, not sickness. However, there are some Christians who believe it's God's Will for them to be sick. This is far from the truth and why the Bible says in Hosea 4:6, "My people are destroyed for lack of knowledge..."
Master the steps required to get your healing with enlightened understanding to equip, strengthen and fortify you. You'll learn how to:
effectively cancel the strategies of the adversary against you;
make your life beautiful and radiant; and
never walk in sickness or despair again
through our online Healing Conference with Apostle Maria Evans where she will teach you these things and more during 7 short classes (30 mins each) and pray specifically for you (during the 8th class), directing the power of God toward your case.
Your time for healing has come. All you have to do is register and take your seat with an expectant heart, willing to yield to God's guidance and counsel in His Word and the Voice of the Holy Spirit through our woman of God.
_______________________________
DATES & TIME
September 21 - October 7, 2022 | Mondays, Wednesdays & Fridays
7:30PM CST, 1:30AM GMT+, 3:30AM EAT
_______________________________
DETAILS
Information to join the online Healing Conference with Apostle Maria will be emailed to you upon registration. Registrants are required to attend all 7 classes to gain access to the final class, October 7th, where our woman of God will pray for all those seeking healing. Kindly note, registration for this Healing Conference closes one day prior start date.
_______________________________
ABOUT APOSTLE MARIA EVANS
Apostle Maria is the President and Senior Pastor of Hearts International Ministries commonly referred as Church HIM. As a Spirit-filled, highly gifted pastor, teacher, and healing minister, Apostle Maria, by divine commission, has reached people around the globe with God's healing power for over thirteen (13) years. The Anointing on Apostle Maria's life also continually impacts women's lives in remarkable Biblical Training Workshops in Africa through the manifest Presence of the Holy Spirit, resulting in amazing miracles and remarkable testimonies.