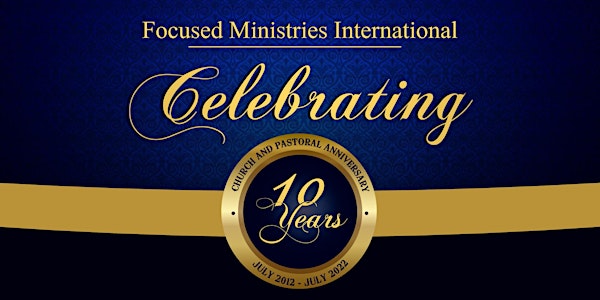 Church and Pastoral 10th Anniversary - Banquet Tickets
Church and Pastoral 10th Anniversary
When and where
Location
Ben Robertson Community Center 2753 Watts Drive Kennesaw, GA 30144
About this event
Come rejoice with us as we celebrate the 10th anniversary of Focused Ministries International and also the anniversary of our founding visionary, Pastor Jackie Jenkins.
We invite our members, family, friends, sponsors, and supporters to gather and witness what the Lord has done for us over the past ten years. Come out and be a part of this Grand Celebration!
ANNIVERSARY CELEBRATION DATES
Saturday, July 23, 2022 – @ 5PM – 8PM - Anniversary Banquet.
This semi-formal event will be held at the Ben Robertson Community Center located at 2753 Watts Drive, Kennesaw GA 30144.
Sunday, July 24, 2022 @ 9:30AM – Anniversary Worship Service
The worship services will be held at Focused Ministries International located at 2477 Canton Road, Marietta GA 30066
SOUVENIR BOOKS
Oftentimes we do not realize the importance of a moment until it becomes a memory. The souvenir book will be a full-color experience of the exciting moments and fond memories of Focused Ministries International. It will also provide an opportunity to promote your business and send gratulatory messages. You can purchase full, half, or quarter page ads as well as business card ads. Please click the link below to order your advertisement for the Souvenir Book. https://bit.ly/3b6LfcY
DISCLAIMER
In accordance with CDC guidelines and for the safety of all attendees, if you are sick or experiencing symptoms suggestive of COVID-19, (fever, chills, cough, sore throat, congestion/runny nose, new loss of taste or smell, nausea/vomiting, diarrhea, fatigue, or shortness of breath), we advise that you do not attend the events. Social distancing is required and face masks must be worn on the premises. Temperatures will be checked upon entry and hand sanitizer will be available.
"BY ATTENDING THESE EVENTS, YOU VOLUNTARILY ASSUME ALL RISKS TO EXPOSURE TO COVID-19." You can be assured that Focused Ministries International is proactively exercising all the precautions and safety measures as recommended by the Centers for Disease Control and Prevention to ensure the safety of our members and visitors.
We appreciate your willingness to follow all safety protocols. Let us continue to remain prayerful and safe during this time!