Description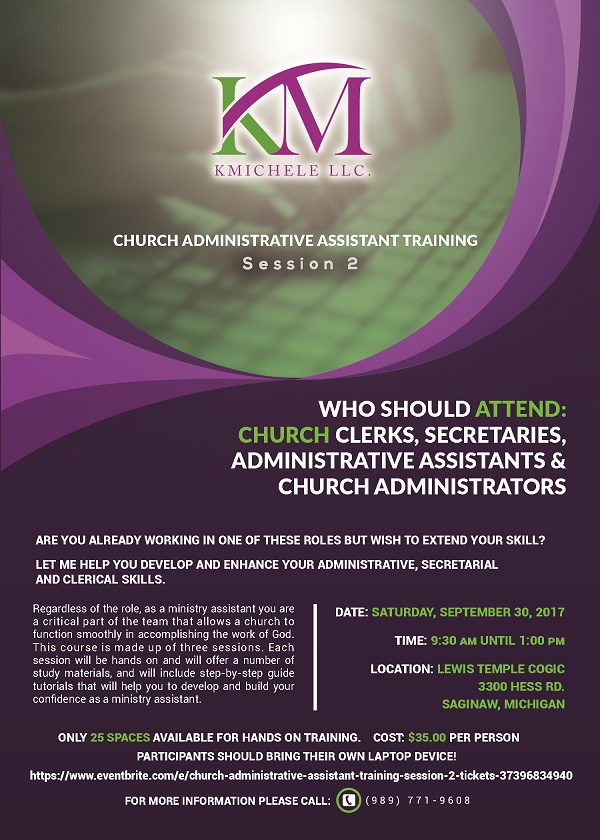 Church Administrative Assistant Training - Session 2
Who Should Attend: Church Clerks, Secretaries & Administrative Assistants
Are you already working in one of these roles but wish to extend your skill?
Let me help you develop and enhance your administrative, secretarial and clerical skills.
Regardless of the role, as a ministry assistant you are a critical part of the team that allows a church to function smoothly in accomplishing the work of God. This course is made up of three sessions. Each session will be hands on and will offer a number of study materials, and will include step-by-step guide tutorials that will help you to develop and build your confidence as a ministry assistant.
Session 1
Church Administrator, Church Secretary and Church Clerk Roles & Responsibilities

Leader Expectations

Communication Skills-Let's Talk About It

Organizational Skills- To Do List

Electronic and paper filing systems

Time Management

Confidentiality

Meeting planning and management/ Conference Call Planning & Management
Session 2
Creativity (Newsletters, design, etc)

Office Supplies, Equipment and Reimbursement (What to Buy)

Microsoft Word, Excel, Outlook, Google Calendar, and Publisher

Church Calendar (Maintenance & Compiling)

Recordkeeping, minutes

Correspondence (Email, Letters, Condolences, Letterhead)

Church Bulletins (Creation, Do's and Don'ts)
Session 3
Membership Directory and Applications

Church Bulletins (Creation, Do's and Don'ts)

Microsoft Word, Excel, Outlook, Google Calendar, and Publisher

Research skills, resources and other tips