Church Accountability By The Book & The Basics of Church Bookkeeping Semina...
Description
Church Accountability By The Book Seminar
If you are in a position of financial responsibility for your church or a non-profit organization, you cannot afford to miss the "Church Accountability by the Book" seminar. This half day seminar is designed for clergy, treasurers, church board members, non-profit organizations and anyone else responsible for financial decisions affecting the church, non-profit organizations, and clergy benefits.
The seminar addresses a variety of financial accountability issues that frequently affect church and non-profit officials. Tax laws are constantly changing and there is always a need for continued education.
The following topics will be covered:
Income

Housing & Parsonage Allowance

Professional Expenses

Retirements

Payroll Reports

Policies and Procedures

Political Activities

Contributions

Protecting Your 501(c)(3) status

Embezzlement

Internal Controls
. . . . . And much more!
Is your church doing everything possible to survive an IRS audit?
Protect your tax-exempt status.
"Worth's Income Tax Guide for Ministers" Written by B.J. Worth included with registration fee.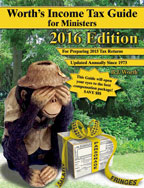 The Basics of Church Bookkeeping
If you are a church secretary or administrator you have a lot of information to manage! You work with accounting records, payroll records, mailing lists, attendance records and more.
It is very important to have records that are accurate and easily retrieved.
Really . . . . . . How important are these records?

What are your options for maintaining these records?

Are the records you are currently keeping in compliance with IRS regulations?
Have you been asking yourself these questions? Perhaps you are asking them now . . . .
The Importance of Church Accounting Seminar is for you!
During this half day seminar we will cover:
The Importance of Records
Membership/Contribution Records

Accounting/Payroll Records
Options for Maintaining Church Records
Paper & pencil

Excel workbooks

Quickbooks

Powerchurch

Other software programs
Reports
Basic Essential Reports

Examples of Good Reports

Examples of Bad Reports

Using Information Presented in Reports
Registration begins 30 minutes prior to the event start time
Church Accountability By The Book Seminar
: 9:00 a.m. – 12:30 p.m.
Includes Continental Breakfast and Seminar Manual
The Basics of Church Bookkeeping
: 1:30 p.m. – 5:00 p.m.
Includes light snack and Seminar Manual
Hotel Information:
A Discount code is available for room rented 30 days before the email. Information will be send out after ticket is purchased.