春晖杯中国留学人员创新创业大赛 Chunhui Cup Startup Contest

Saturday, June 22, 2013 from 1:00 PM to 4:00 PM (PDT)
Event Details
第八届"春晖杯"中国留学人员创新创业大赛旧金山赛区
Highlight Program: 
部分评委对项目计划进行现场指导 (分时闭门)
Time: 1pm - 3pm, 6/22, Sat
Location: Hanhai Z-Park, 97 E Brokaw Rd, San Jose
Note: This Session is selection based. Your participation will be confirmed and your time slot will be sent to you this Friday. 
"春晖杯"创业大赛,创造条件支持参赛者与留学人员创业园、大学科技园、企业、风投进行项目对接,根据项目技术水平、投资前景、效益预测和产业化情况,组织留学人员创业园、大学科技园、风险投资机构和相关企业对项目进行评审、洽谈和择优颁奖,推动留学人员创业。

"春晖杯"创业大赛自2006年创办以来,已成功举办七届。共遴选出 1184 个优秀项目入围,其中300 多个项目已在国内落地孵化,取得了积极效果。项目涉及生物医药、电子信息、光机电一体化、新能源、新材料、资源与环境、文化创意和现代服务业等领域。

2013年将举办第八届"春晖杯"创业大赛,首次在美国旧金山设立海外赛区,由海外专业投资机构、企业家评选出优秀项目。
1、报名:旧金山赛区与国内赛区同步采取网络在线报名的方式,报名网站:http://cyds.cscse.edu.cn,报名时间:2013年4月20日至7月20日。在线报名链接如下。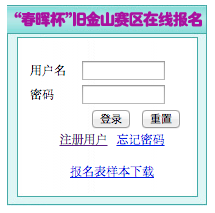 2、参赛资格:在驻旧金山总领事馆领区内学习或工作、具有创新创业项目的中国留学人员可报名参赛。每位参赛者限报一个项目。如以团队的形式参赛, 第一参赛人必须是中国留学人员。本届大赛不再接收往届入围者报名参赛,若往届入围者有新的创新创业项目并希望借助"春晖杯"创业大赛组委会进行有效宣传,可通过报名系统与组委会办公室联系。
3、商业计划书培训:
2013年5月25日 "商业模式、市场定位、公共关系、与创业成功实例分析"
2013年6月15日 "融资、投资人、中国策略、与现场路演实例分析"
培训地点:中关村瀚海硅谷科技园
其他培训内容:重点讲解"春晖杯"创业大赛商业计划书的格式、内容及要求;解答留学人员在参赛报名过程中遇到的问题;解答留学人员回国创业环境及政策等相关问题。
4、初审:2013年8月10日至8月31日,组织评审委员会专家对申报项目进行初步判断,填写评审意见表,并对商业计划书提出完善或修改意见。对所有参赛项目进行封闭式评审,经充分研讨,从参赛项目中选出参加决赛的40个项目。

5、决赛:拟定于2013年9月15日在Santa Clara会议中心举行。40个通过初审的项目参加现场决赛,由项目持有人向评审委员会专家、观众进行项目陈述,回答专家提问,决出20个项目,作为第八届"春晖杯"创业大赛入围项目。

6、入围项目产生:2013年9月21日前,将旧金山赛区胜出的20个入围项目报"春晖杯"创业大赛组委会。9月30日前,全球入围项目将在"春晖杯"创业大赛网站上进行为期7天的公示。公示结束后,正式产生第八届"春晖杯"创业大赛的入围项目。

7、回国参加相关活动:2013年12月,旧金山赛区20个入围项目代表(每个项目限额一人)将获得往返国际旅费全额资助,回国参加第16届中国留学人员广州科技交流会及"春晖杯"创业大赛组委会颁奖活动,并与当地科技园、开发区、企业、投资人等进行项目对接和洽谈。
主办单位:教育部、科技部
承办单位:驻旧金山总领事馆教育组
协办单位:美中高层次人才交流协会| 中关村瀚海硅谷科技园
旧金山赛区承办单位联系方式
中国驻旧金山总领事馆教育组 
地址:1450 Laguna Street, San Francisco, CA 94115
联系人: 陈正文  关海强
电话:415-852-5985, 415-425-5984
传真:415-852-5980
电子信箱: czw66@126.com, guanhqxa@hotmail.com
网址:www.edusf.org
Attendee List
Sort by:
Date
When & Where

HanHai zPark
97 E Brokaw Rd
San Jose, CA 95131


Saturday, June 22, 2013 from 1:00 PM to 4:00 PM (PDT)
Add to my calendar
Organizer
Hanhai Investment Inc.
Hanhai Investment, Inc. is the first Sino-U.S high tech business incubator in the Silicon Valley. An incubator hub features over 100 innovative startups. Our 80,000 sq. ft. office is fully equipped to allow many startups to immediately begin their operations. 
Hanhai Investment's parent company, Hanhai Investment Group is a multi-tech investment platform focused on cross-cultural startup development through investments and consulting. It has been the leader in startup incubation for over 10 years in China.
Headquartered in Beijing, China,  Hanhai Investment Group have 5 national level incubators ( located in China ), 3 Sino-US Innovation Centers ( located in Beijing, Shenzhen and Qinhuangdao, China ), and 4 Sciences and Technology Parks ( located in US, Canada and Germany ) . These create an international networking platform for entrepreneurs, investors and mentors.
春晖杯中国留学人员创新创业大赛 Chunhui Cup Startup Contest