Description
Whet your appetite as you enjoy cuisine inspired by the grand tradition of the chuck wagon! In fact, the first Los Angeles food trucks were inspired by the chuck wagons of the open range and appeared as horse-drawn wagons as early as the 1880s. Operated mostly by immigrants, these multicultural dining experiences introduced the city to many of our beloved dishes. Before this, the first chuck wagon was created in 1866 when a Texas cattleman bolted a cupboard onto the back of an army wagon. On the trail, a good cook could transform cheap ingredients into something worth eating, and cowboy cooks gained their reputations based on their level of culinary skill.
Tickets include plates from multiple food stations, access to the galleries and garden, and presentations by chefs and food history experts.
---
Chuck Wagons: The First Food Trucks
Get a taste of traditional chuck wagon cuisine, then experience a new fusion as contemporary chefs update the menu with Pacific flair.
Plus, don't miss The Urban Chuck Wagon: 100 Years of Food Truck Fare, the next installment of this Autry culinary series on Friday, February 23.
---
Menu subject to slight changes based on ingredient availability.
Sponsors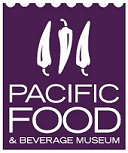 Presented in collaboration with the Pacific Food and Beverage Museum and the Museum of the American Cocktail.