Description
Chico Community Guilds & Paradise Community Guilds
-Present-
Chuck Brodsky
at Chico Guild Hall
2775 Old Nord Ave., Chico, CA
Friday, Jan. 26, 2018 - 7:30PM
Doors open at 7PM
Refreshments / Drinks Available
$20 / Limited seating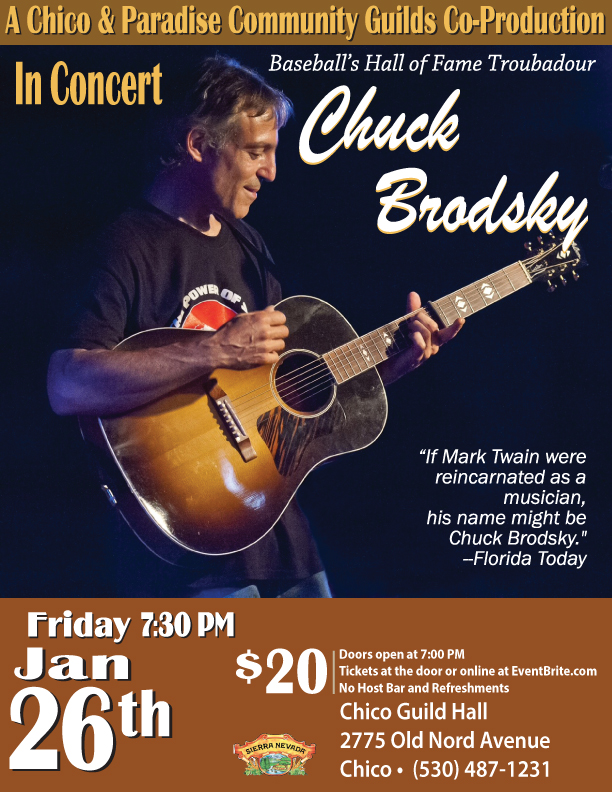 "If Mark Twain were reincarnated as a musician, his name might be Chuck Brodsky "
-Florida Today
"One of the finest singer-songwriters in America."
-Larry Groce, Mountain Stage (National Public Radio)
"A world class songwriter...a musical poet moonlighting at times as a grand court jester."
-Mountain Xpress (Asheville, NC)
"Chuck Brodsky can sing, fingerpick, and strum with the best of 'em...a storyteller, and a riveting one at that...an underlying tone of warmth and compassion runs through all his carefully observed narratives.
-Acoustic Guitar Magazine
In a career spanning just over two decades, Brodsky has crafted a body of work in a style that critics have compared to Mark Twain, John Steinbeck and Flannery O'Connor. As much at home with comedy as tragedy, his story songs carry the full payload of a mature observer of human experience – irony, tenderness, bitter satire, surprise and delight, modern frustrations, a sense of danger and of longing. Conveying all of this with a catchy melody, a chalky baritone and a journeyman's skill on the guitar is what helped to land 18 of his songs in the Baseball Hall of Fame's Sound Recording Library.
Brodsky was born and raised in Philadelphia. His early songwriting influences range from Bob Dylan and Woody Guthrie to Bruce Springsteen and The Rolling Stones. With 10 albums to his credit, he's a main stage veteran of festivals throughout North America, Europe, and Israel. Brodsky's tunes can be heard in several feature films. His song "Blow 'em Away" was recorded by David Wilcox.
His passion for our national pastime is evident in two albums devoted entirely to baseball tales, with a colorful, off-beat cast of characters: the first white man to play in the Negro leagues, a pitcher who threw a no-hitter while hallucinating on LSD, a catcher who was a spy during World War II, and many more.
---
Doors open for seating at 7PM. Delicious desserts and a no host bar will be available throughout the night.
For more info: 530-487-1231 / events@chicoguildhall.org

Visit us at www.chicoguildhall.org