CHS Class of 2001 - 15 Year Reunion
Description
This party has been 15 years in-the-making...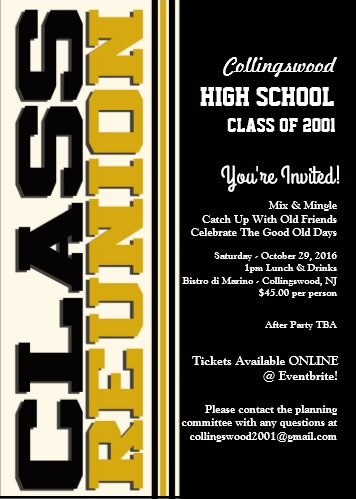 FAQs
Can I purchase a ticket for a date? Who is able to come along with me?
YES - Definitely purchase a ticket for a date. Please feel free to bring your spouse or significant other along with you. If you need a friend to come along with you to hold your hand for moral support, this will be allowed as well.
As for children, due to limited space and tickets available, this is an ADULT-ONLY event. Please leave your little ones at home.
Do I have to bring my printed ticket to the event?
NO - You may bring it if you would like, but you do not need the actual print out. You may use your phone as well to confirm your ticket purchase.
** We will have a list of all graduates who purchase tickets as well, so if you cannot find the confirmation email, no worries. **