Description
CHRYSALIS :: Shannon McKendry Bruce's 50th Birthday Celebration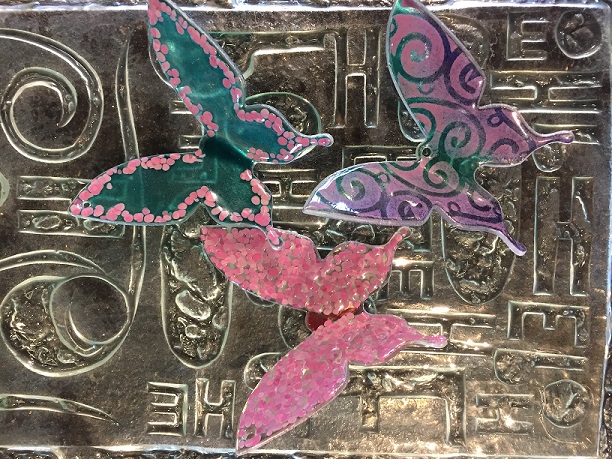 AN INVITATION FROM SHANNON:
It's my 50th birthday and I am having a celebration like no other! It's a BIG milestone and I want to "shake it up" so I'm focusing on a cause that really matters to me.
You're invited to this party and in lieu of gifts, I'd be grateful if you would purchase a glass butterfly for an art movement being launched to end sex trafficking. (Read on if you want to know more!)
Please join me for this "change-up" party celebration as we make a difference to those girls and women enslaved who need help being set free. Together, we can be the change we wish to see in this world.
When: Friday, December 2nd, 2016
Time: Open House from 5:30p-8:30p
Where: Lisa Stirrett Glass Art Studio, 9536 Silverdale Way Northwest, Silverdale, WA 98383
What to Expect: Hors d'oeuvres, Punch, Coffee, Cupcakes and a No-Host Bar (Cash only), along with info about the cause
Feel free to share this invitation with your friends, colleagues and family—the more the merrier! If you can't make it and would like to support this endeavor, you can buy a glass butterfly for yourself, for a gift or for the art wall.
If you would like to purchase, please follow the instructions below:
Go to: Paypal.me/houseofglassart and enter $50 for one of the medium butterflies, or $75 for one of the large butterflies. If you want more than one, multiple the quantity times the individual price and enter this amount. Click next and log-in to your PayPal account. Under special instructions, please provide whether you want this shipped or if you are purchasing it for the art wall. If you want it shipped, please provide your phone number, e-mail, name and mailing address. There will be additional charges which will be provided to you by the Lisa Stirrett Glass Art Studio.
Why This Matters to Me
In 2010, I met with a local colleague who was a part of an event called "Breaking Free Kitsap". During our conversation, I learned that sex trafficking wasn't just a global issue but was happening right here in Kitsap County where I live. With what I learned that day, you can bet it's happening in other communities as well because it's not just an international issue. It's happening right here in the United States and is growing at an alarming rate.
At the time I learned of this horrific form of modern day slavery, my daughter was only 10 and it impacted me deeply. To think that she could be exposed to something like this terrified me! I now realize that a mere 6 years ago, a seed was planted in my heart to become a voice for this cause.
In 2015, I decided to do something about it. As a business leader, I had the privilege of partnering with individuals and organizations that are preventing, rescuing and fighting against sex trafficking. I was able to expose the issue by educating the business community through the Silverdale and Poulsbo Chambers through two very provocative panel discussions with these experts in the field. What I learned through countless hours of research, interviews and facilitation is that the young girls and women who are involved in this industry are there because there's a "dark side" of business.
While these two events were powerful, I've wanted to do something "more" to have a long-term impact in ending this tragedy. So turning 50, I see this as an opportunity to once again use my voice. This is why I am choosing to celebrating my milestone birthday for a cause, collaborating with Lisa Stirrett and the Glass House Girls to create an art movement. The goal…to end sex trafficking and to set girls and women free!
This art movement is called "Chrysalis" because we have chosen a glass butterfly to represent the voices being set free. The butterfly is a perfect representation of these girls and women being freed because of the nature of its paradoxical journey. While the butterfly emerges as an exquisite creature full of vibrancy, it starts off in a preparation and transitory stage from its beginnings as a pupa encased in a chrysalis where it undergoes its metamorphosis. Throughout its developmental process, the butterfly goes through a messy evolution and ultimately painful struggle to finally be set free.
This is exactly our desire—that this art movement of butterflies flying freely on an art wall will end the pain and suffering caused to young girls and women because of the sex trafficking industry.
You can be a part of this legacy, through buying a butterfly and giving voice to this cause. Each butterfly that's purchased will go toward the final art work which is a Butterfly Art Wall known as "Chrysalis" which will be a beautiful visual representation of the voices and lives of girls and women in trafficking being set free. Once the butterfly wall is complet, this will becoming a traveling art display housed in a public location to create ongoing awareness and to further the momentum of the cause.
In addition to collaborating with The Glass House, I am partnering with Shared Hope International because of the great work they are doing locally, nationally and globally to educate and empower to end sex trafficking. Their mission is to prevent, restore and bring justice to women and children victimized and vulnerable to sex trafficking. They envision a world passionately opposed to sex trafficking and are a community committed to restoring survivors to lives of purpose, value and choice – one life at time. Shared Hope will be the beneficiary of the net proceeds generated from the sale of the glass butterflies, which can be purchased for yourself, as a gift and for the butterfly wall.
Here's more from Shared Hope on this important cause:
While the government estimates that 15-17,000 foreign victims are trafficking into the country every year to be used in forced labor or sex, the number of American born children trafficked within the U.S. far outweighs them.
The National Center for Missing and Exploited Children (NCMEC) estimates that approximately 100,000 American children are trafficked into the commercial sex industry every year, with up to 300,000 at risk.
Many agencies have reported that the COMMON age of recruitment into the commercial sex industry is 14-16 years old but we have seen victims as young as 9 years of age.
Shared Hope International's research across the nation revealed that victims come from every race, ethnicity and socioeconomic background. While some youth have more extreme vulnerabilities, the reality is that all youth are vulnerable due to their age. Traffickers prey on their vulnerabilities, eager to manipulate them into believing his/her lies and promises.
These stats are exactly why I want to take action!
I hope you will join me on December 2nd for my 50th birthday celebration, along with the fellowship of the community as we join together to launch this art movement. If you are unable to attend, you can still be a part of this endeavor by buying a butterfly for yourself or the art wall.
Thank you and I hope to see you there!
Shannon